Mapei launch new look website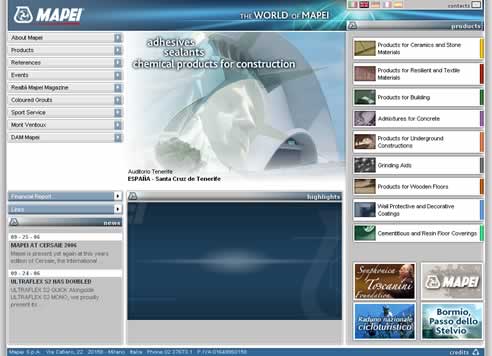 The recent revamp of the existing website provides user friendly pages that are easier to navigate and packed full of information.
All areas of the site can be easily accessed from the home page.
About MAPEI provides an interesting history on the last 70 years of the MAPEI group including a short corporate video presentation.
Information is available on all MAPEI product lines including Products for the Installation of Ceramic and Stone Materials, Products for Resilient and Textile Materials, Products for Wooden Flooring and our new product line for Building Specialty Products.
Products can be searched by Name, Product Line and Catalogue. All catalogues are also available for downloading in pdf format and a printable version option has now been added. Technical data sheets are also available to download and print off our website.
A virtual tour is now available for all types of installations using our coloured grouts. Visitors can select all types of locations including bathrooms, kitchens, retail outlets with various tiling materials and change the grout colours to source their preference. Up to 26 grout colours are available to view.