Mapei celebrates 70 years of environmentally friendly adhesives, sealants and more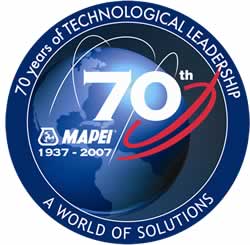 From humble beginnings as a small company on the outskirts of Milan, to a multinational world leader in products for the building industry, the MAPEI Group is 70 years old and still going strong.
A number of key elements in the company's corporate philosophy have allowed the MAPEI Group to grow so successfully: specialisation in the building industry; internationalisation with a special eye for local market requirements; research and development of products constantly at the technological cutting-edge; personalised customer service; team work; careful management of human resources; the sustainable development of our operations and careful attention to the installers and final users health.
This growth has not, however, detracted from the original Company spirit based on creativity, competence, passion and flexibility. The secret of MAPEI's success is just that: thinking big and expanding across the world without losing those distinctive traits of a craft enterprise: everyday commitment to working shoulder-to-shoulder with our customers to find increasingly innovative solutions for dealing with issues related to the building world.
MAPEI is the only company in the world to have designed and developed an analytical classification system for stone material according to the degree of sensitivity to water. Stone material can suffer from a considerable amount of bowing and/or expansion if subjected to humidity or with the presence of water rising up from the substrate, screed or adhesive. MAPEI used their own Research and Development laboratories to carry out this testing and have had their system recognised by the CEN and standardised by the EN 14617-12 code of standards.
In order to overcome the typical problems encountered when laying stone material, MAPEI offers a complete range of products which includes screeds, levelling mortars, adhesives, mortars for grouting joints and special sealants. Take advantage of MAPEI's precious know-how in the field of laying stone material and use their knowledge when choosing the right product for your special project.