Ultrabond ECO® 90 multipurpose flooring adhesive from Mapei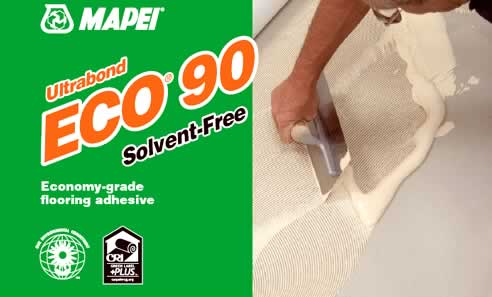 Ultrabond ECO 90 is an economy-grade multipurpose adhesive with an open time designed for installing carpet. Ultrabond ECO 90 also works well with felt-backed, sheet-goods flooring.
Use to install carpets with jute, polypropylene (ActionBac®), latex-foam and sponge-rubber backings; and residential mineral fibrous felt-backed vinyl sheet goods.
Recommended Substrates
Any wood underlayment that is recommended or guaranteed by either the wood underlayment manufacturer or the floor-covering manufacturer, such as exterior-grade plywood, Group 1, CC type.
Dry concrete.
Noncushioned, embossed vinyl sheet goods flooring, fully adhered and properly leveled using Planipatch® and Planipatch Plus™ for light commercial use only.
Properly prepared cement terrazzo.
07 3276 5000
180 Viking Drive, Wacol, Brisbane, QLD, 4076