Structural Insulated Panel Building System from Poly-Tek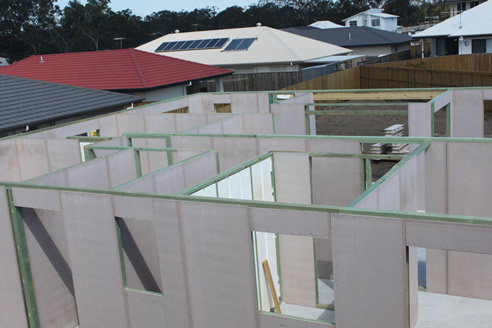 Poly-Tek SIP (Structural Insulated Panel) Building System

The only *Pre Finished SIP system in Australia that isn't made of steel and requires no additional cladding. *On site painting is required. Imagine having all external and internal walls erected and ready for roof trusses on a 240m2 lowest home in 4 days with 3 laborers! That equates to huge savings in build time, ensuring a faster 'lock up' and earlier payment is received. Not only does the Poly-Tek SIP System mean a quicker build but the price of the system can equate to being cheaper than face brick. There are many finish options available (some requiring on site finishing);
External Face Panels are available in a Pre Rendered finish or as an uncoated render-ready option.
Internal Face Panels can feature cover strips, have joints set and painted or can be clad with gyprock for a plasterboard finish.


All Panels feature electrical cut outs at 300mm intervals and design versatility is assured as we offer multiple Panel sizes being 900mm & 1200mm x 2400mm, 2700mm & 3000mm. The insulated core of the panels provides fantastic thermal properties; R-Value 2.7 in summer and R-Value 3.0 in winter, ensuring reduced energy costs for the homeowner. The Poly-Tek SIP system will provide you with a modern, energy efficient and cost effective dwelling.