Panel Glide Curved Blind Systems from Silent Gliss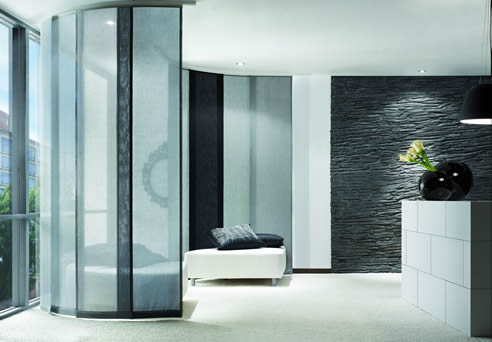 Panel Glide Systems Silent Gliss 2700 & 2730 Flex
Flex - The new Panel Glide Generation
Corners are passé with the new curved Panel Glide System Silent Gliss 2730 Flex. Innovative technology allows the panels to glide in curves in front of windows and walls, totally silently and in virtually any radius. So even when used as a visual room divider and design element, there's no limit to your creativity.
A Curved Sensation
The first of its kind in the world - the system Silent Gliss 2730 Flex not only adjusts to every possible room, it can be used as design element or room divider in any room due to its adjustable tracks and panels. A unique flexible carrier with a new designed roller allows a smooth and virtually noiseless gliding of the panels.
Around the Corner
The system Silent Gliss 2730 Flex also allows the panels to be parked "around the corner" due to its bendable tracks. The tracks are bendable down to a radius of 15 cm which allows the system to be used in rooms with 90° angles. Parking the panels on the side will offer undisturbed views.
Already a Classic - Silent Gliss 2700
This system features a unique carrier with special designed and sophisticated rollers and new tracks which allow an even smoother, more comfortable and extremely silent gliding of the panels. Various fabrics, different operation possibilities like free floating, draw rod and cord drawn and a new transparent carrier with click-in option make this system truly one-of-a-kind.