Flexible Metal Coatings from Lustre FX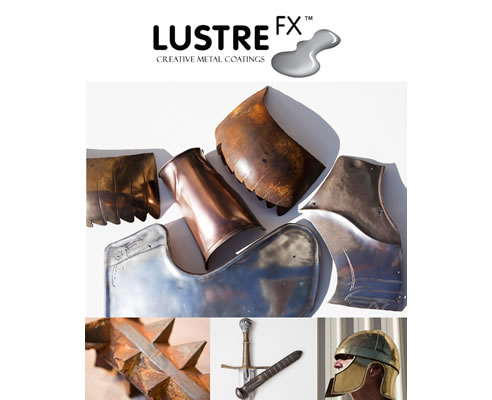 Lustre FX: flexible metal coating developed
for the film industry and WETA® Workshop NZ
Developed by Edward Richardson (Lustre FX director) for the film industry and at special request by WETA workshop in New Zealand(special effects team of Lord of the Rings, Avatar etc). After years of trying to perfect a finish for props and costumes that was durable, shiny, would bend and didn't chip WETA sought our help to develop a solution. Our solution in their words was "the Holy Grail" of the film industry and we exceeded their expectations.
It is this flexible metal breakthrough which is seeing Lustre FX being the preferred supplier to coat many of Hollywood's armour and props. We have had recent interest from clothing designers wishing to explore the use of our Flex FX product in their textiles to be incorporated into fashion garments and collections.
These finishes are the perfect complement to the existing metal finishes and polished Venetian plaster finishes within our range.
For all your decorative metal coatings, polished Venetian plaster, signage and fabrication needs contact us today.
http://www.lustrefx.com.au
phone: 02 6260 2153