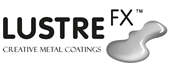 Company Profile
Lustre FX is a talented team of passionate people with a thirst for creating new and innovative design solutions for the commercial and residential markets

They are excited by the prospect of cracking ideas that people deem not possible - this is what makes them tick! They wish to share their knowledge with other people to improve the industry as a whole.

Lustre FX provides a wide range of decorative coatings, in house training and a number of building services that meet the needs of individuals and companies. An award-winning company recognised for excellence in the industry. Lustre FX pride themselves on working with you to create tailored solutions that meet your requirements, budget and timeframes.

Lustre Fx
02 6260 2153
2/88 Sheppard St, Hume, ACT, 2620
* If you would like to update the text on your profile page, please contact Spec-Net.