Rendered Acoustic Fencing from Poly-Tek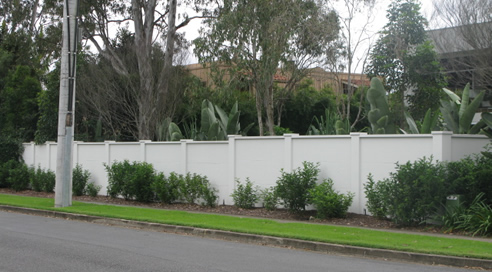 The only Pre Rendered Fence system in Australia.

Fancy a modern fence that looks like a block wall fence but at a fraction of the price? The Poly-Tek acoustic fence system is the answer. Unlike other sandwich panel fences the Poly-Tek fence can be economically supplied to you Pre Rendered and is the thickness of a masonry fence so it doesn't look cheap and nasty. The Poly-Tek modular wall panels come standard in 2.4m lengths and in panel heights of 600mm, 900mm or 1200mm. Key features & benefits of Poly-Tek fencing:
Durability is assured in exposure to harsh climate conditions due to the weather proof Render effect coating
It offers great noise attenuation and is a perfect solution for busy or main road locales
Can be supplied in an uncoated Render Ready option saving you even more money
Is available as a Residential FC panel or as Commercial Plywood or MgO Panels which offer impact resistance and are approved for use as noise barriers by both TMR (Transport & Main Rds) Qld and QR (Queensland Rail)
Makes for an easy D.I.Y installation or can be installed by recommended contractors
Can be used in mining or industrial applications, around generators, treatment plants etc
Is an effective compound/security fence solution


Please call 07 3715 6800 for further information or visit our website www.polytek.com.au to view our many other Pre Rendered building solutions.