Dropdown Edge Tile Range Expanded from Sareen Stone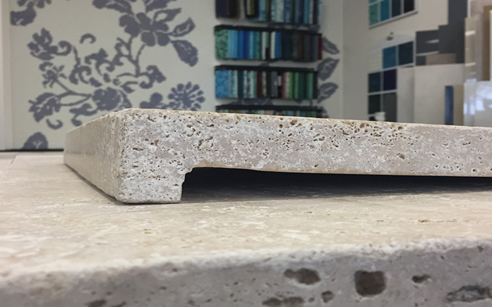 New dropdowns making a splash
Sareen Stone has expanded their range of dropdown edge tiles perfect for outdoor areas and pool surrounds. In addition to Sareen Stone's original granite dropdowns in Charcoal and Silhouette Grey, Silver Ash and Classic Travertine dropdowns have now arrived into the warehouse.
Demand from landscapers and architects has increased as more discover the benefits of installing Sareen Stone's new dropdown pavers. Supplied in one piece of stone, this exciting and innovative combined pool coping and step tread, is a real time saver for landscapers and builders. The dropdown edge pool coping and step tread are cut from one block of stone. This means a joint is unnecessary between the body of the paver and the dropdown edge saving time in cutting and grouting.
Sareen Stone's dropdowns also offer a great solution in concealing any discolouration left by a previous waterline tile when refurbishing an existing pool. Being a solid piece of stone, the result is a strong architectural look and is especially popular for the modern rectangular shaped pool.
For more information about Sareen Stone's range of dropdowns visit www.sareenstone.com.au or contact their knowledgeable Staff on 02 9666 9222 or email.