Structural Insulated Panel System from Poly-Tek Australia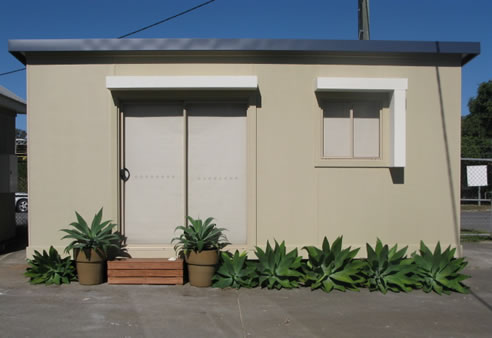 Poly-Tek Structural Insulated Panel System (SIPS)
By far one of the most exciting products to be added to the Poly-Tek product range is our SIPS Panels available in a Render Effect finish or Ready Ready.
The Poly-Tek Structural Insulated Panel System (Sips) is a great way to build your next cabin, independent living unit, granny flat or even a full size single level home. The system is ideal as it is quick and easy to use when tradies are hard to find or when you need a faster build with earlier payment. A 3m x 6m cabin was built by two of our salesmen and was fully complete in 3 days!!!
The SIPS construction method uses 6mm fibre cement skins with a 90mm polystyrene insulating core. The external finish can be Poly-Tek's patented Render Effect textured finish or the joints can also be set and the walls textured painted or rendered to create a seamless finish. The internal joints can be set and the walls painted to give a great looking seamless finish or for labor or economy reasons you can use cover strips as an alternative.
When combined with steel or timber for structural support the SIPS system offers great strength, insulation and acoustic value.
The Poly-Tek SIPS system for modular units is versatile as it can suit flat pack delivery & on site build or could be pre built and transported.
Using the Poly-Tek SIPS system compared to a traditional stick frame can save you 30% on a lowest home build.
Poly-Tek SIPS is the economical answer for
Cabins or Independent Living Units at Caravan Parks or Recreational Park
Modern & sophisticated mining accommodation
Granny flats to add value to your property or yield you an income return
Fast & more profitable lowest builds
Please call 07 3715 6800 for further information or visit our website www.polytek.com.au to view our many other Pre Rendered building solutions.