Era Polymers Fomo helps restore Rotaynah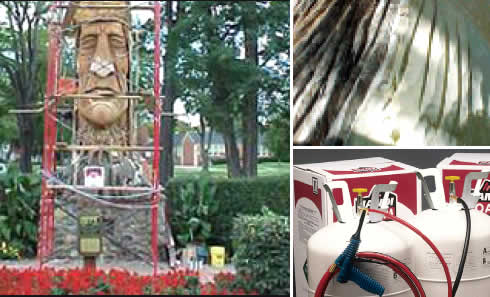 Era Polymers Pty Ltd are the Australian distributor for Fomo Products Inc; (Ohio - USA); part of the FLM group of companies, the largest global manufacturer of one and two component polyurethane foam systems in pressurised disposable packaging.
In October 2003, Fomo Products assisted an internationally known artist, Peter Wolf Toth, in the reconstruction of his statue of a Cherokee Chieftain Rotaynah located in Akron Ohio. The Indian statue had suffered much damage over the years due to Northeasterns Ohio's weather, carpenter ants and termites.
The artist was able to use Fomo's Two-Component Handi-Foam Quick Cure foam kits to restore the statue. The Two-Component foam was sprayed from bottom to top in varying thickness over wire mesh/foam board backing. The foam added structural support to the statue, protected if from further damage and allowed the artist to re-carve the statue back. Once the foam was carved and shaped it was coated to protect if from UV rays and weathering; thus, preserving the Cherokee Chieftain Rotaynah for many years to come.