Ultraplan Maxi low VOC smoothing compound from MAPEI Australia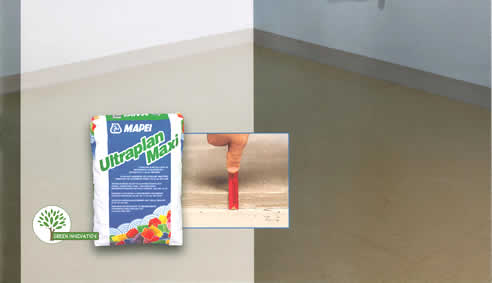 Self levelling, quick hardening smoothing compound for internal use with an extremely low emissions level of volatile organic compounds.
Classified as EMICODE-EC1 by GEV.
Used together with mortars for screeds, primers and "ECO" adhesives of Mapei range, makes it possible to create floors with an extremely low emission level of volatile organic compounds.
For thicknesses from 3 to 30mm.
Particularly recommended for uneven, disjointed substrates.
Ideal for smoothing new substrates, and existing substrates which are solid, dry, clean and not subject to rising damp.
May also be applied on old ceramic, terrazzo and stone floors.
Suitable for heated substrates.
High mechanical strength.
May be set to light foot traffic after only 3 hours.
Resilient and parquet floors may be laid after 24 - 72 hours, according to the thickness.
Recommended for laying all types of floors (resilient, textile, parquet, ceramic and stone).
07 3276 5000
180 Viking Drive, Wacol, Brisbane, QLD, 4076