Galvanising Services with Henryk Topolnicki from Nepean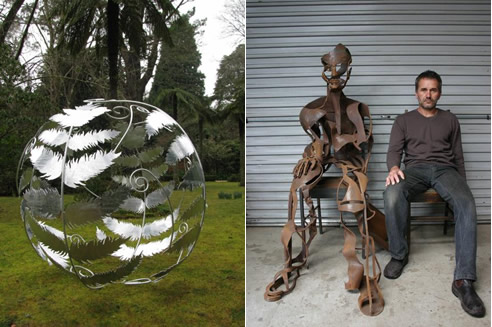 Galserv® Galvanising Services | The Art of Great Customer Service

Here in NEPEAN Building & Infrastructure we are very proud of our Galvanising business, which this year celebrates an important 50 year anniversary. The Galserv® core business is naturally based on heavy industry; this includes structural steel and ancillary items for the infrastructure, building and mining industries as well as our own proprietary Galintel® Galvanised Steel Lintels. Galserv® also regularly carry out work for colleagues at NEPEAN Conveyors and NEPEAN Longwall including most conveyor idler frames and quantities of galvanised pipe. Despite being an industrial business, occasionally Galserv® will receive the opportunity to work in other market sectors. In the past this has included decorative hanging baskets to brighten the streets in Sydney's CBD with colourful flower arrangements, and even exciting sporting venues such as Thornleigh Golf Range. Over the past months, Galserv® has been collaborating with Blue Mountain's based sculptor Henryk Topolnicki. Henryk was born in Poland and has lived in Sydney since 1982, working as a blacksmith, woodworker and welder. Henryk creates privately commissioned and public artworks often relating to natural forms such as insects or birds. He is involved in all stages of the creative process, from design to construction and installation. In July, Galserv® was proud to be involved with two important pieces created by Henryk; the Fern Sphere and the 'Vasilii Rozanov' sculpture, who we call the Reading Man.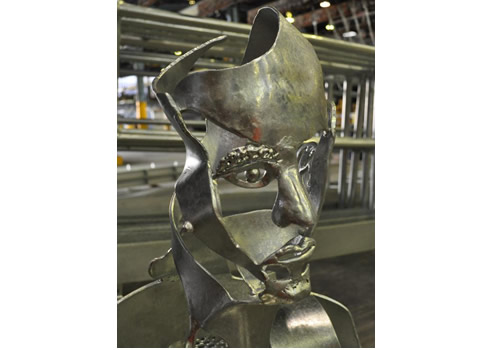 The Fern Sphere, being a delicate sculpture, sustained some damage during transportation, which Galserv® were happy to repair before the galvanising process. Henryk sent us the following note to express his thanks: "I'd just like to congratulate your company on excellent service you provide to your customers. I've always been satisfied with the quality of galvanising and general services offered, but the last job (Fern sphere) has been best so far. On my way to your plant I've hit a few really bad pot holes in the road, which caused couple of welds to brake. I nearly turned back, but then decided that I would repair it after galvanising, which is difficult as you know. So it was with great surprise, that I noticed on pick up, that your people have welded broken bits before dipping. And they have done a pretty good job of it too. It has saved me lots of hassles and double handling, because I could take the job straight to the customer. And to top it off I was given a complimentary gift of a key ring and pocket knife at the dispatch counter. It doesn't get much better than that! Still on the topic, I'd like to add that practically all your staff (from the front counter to the forklift drives) are friendly and helpful". Congratulations to our Galserv® colleagues for their professional overall approach, a great example of excellent customer service and customer retention. Remember - Look after your Customer, or there will be No Customer! To see more of Henryk's work, visit his website www.artisanoption.com.au


02 9707 5088
117-153 Rockwood Road, Yagoona, NSW, 2199