High Rise Structural Steel from Nepean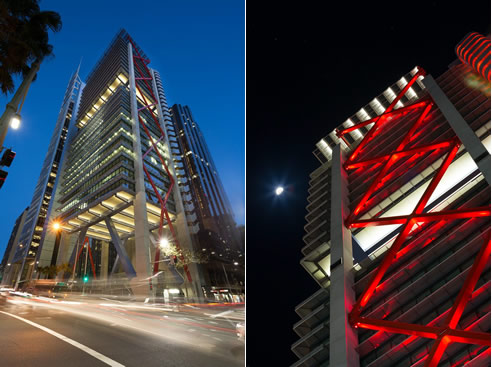 8 Chifley by NEPEAN Structures

Sydney CBD: as you turn left from Martin Place onto Elizabeth Street you are quite literally stopped in your tracks and can't stop yourself from raising your eyes to the sky as you exclaim "Ah!". Sitting amongst the mostly grey and somewhat sombre buildings along one of the busiest streets in the City is a heart-lifting splash of bright red, blue and yellow in jazzy shapes that zigzag up to the sky, forming a very striking piece of architecture indeed. This is 8 Chifley Square, the best looking building in Sydney and newest kid on the block as high-rises go. When you read who the principal architect is, the design comes as no great surprise. Sir Richard Rogers of Rogers Stirk Harbour + Partners in collaboration with Australia's own Ed Lippmann, is the creator of this unique building. Rogers created the Pompidou Centre in Paris, Lloyd's of London and even the Millennium Dome, all of which are considered contemporary architectural masterpieces in international design fora. Upon closer inspection, Chifley's unusual shapes recall Rogers' Bowellism, particularly the girders and external stairs which can be recognised in the metallic, modern facade of the Lloyd's tower, sometimes referred to as the 'Inside-Out building'. Key to the Chifley design and framed by its distinctive blue and red steel beams which scale the building in diamond formation, is the impressive six-storey open space atrium at ground level. This important space not only forms a grand entrance to the building but creates a new, significant public area which mixes outdoor and indoor spaces together. Chifley is the first Australian office building to be designed by Rogers. Ivan Harbour of Rogers Stirk Harbour + Partners has been quoted as saying on the design, "whilst internationally significant, (it) is very specific to the climate and culture of Sydney". Inside, the bright and airy atrium reveals an unexpected, suspended glass foyer, which then provides access to one of seven elevated spaces called 'villages', all separated by single floors yet completely accessible. Coupled with the open space of the ground floor, which is replicated both midway and again at the top of the building, the whole tower radiates a feeling of space and light. 8 Chifley is a NEPEAN Structures project, part of NEPEAN, the largest privately owned engineering, mining services and industrial manufacturing organisation in Australia. NEPEAN Structures offers structural steel and project management solutions including in-house fabrication and erection. NEPEAN's professional construction team worked alongside building owner Mirvac for 18 months, contributing to a completion ahead of schedule. In numbers, the largest blue mega beams supplied by NEPEAN Structures weigh a massive 37 and 30 tonnes, each measuring 18.5 metres long, whilst the red mega braces weigh approximately 9 tonnes each. Due to the location of the building in the heart of Sydney CBD, the installation windows for the 37 tonne blue monster beams were just 3-4 hours including all reo cage connections whilst barely 1 hour was allocated for the 30 tonners! NEPEAN, through their Mastermesh® Brand, also supplied over 3,000 sqm of perforated metal panels which clad the two external high rise stairs on both facades. These are not your average fire escapes; their shapely, modern design is complimented perfectly by the bright yellow paint on their supporting structures, all fabricated by NEPEAN at their extensive Narellan facility. This is not the first iconic building for NEPEAN. Coincidentally, Chifley sits directly next to another renowned Sydney tower; the Deutsche Bank building with its distinctive triangle-shaped steel frame top. In 2005 NEPEAN formed part of the construction team for this remarkable building, supplying all internal structural steel and lift shafts. The Sydney Deutsche Bank building is the second-tallest building in the world with fewer than 40 floors. 8 Chifley is not only the best looking, but will also be one of the greenest buildings in Sydney when completed. It has already achieved a 6 Star Green Star Office Design Rating and is committed to achieving a 5 Star NABERS Energy Rating as well. Chifley's extremely low level of car parking will also contribute to its green footprint. There are barely 32 parking spaces available for the tower, although 130 bicycle bays have been included in the design to promote this lifestyle change. NEPEAN Structures is extremely proud to have helped create such a colourful and vibrant new landmark for Sydney's CBD. 8 Chifley is due to be officially opened in October 2013.


02 9707 5088
117-153 Rockwood Road, Yagoona, NSW, 2199