Custom Perforated Metal from Nepean Building & Infrastructure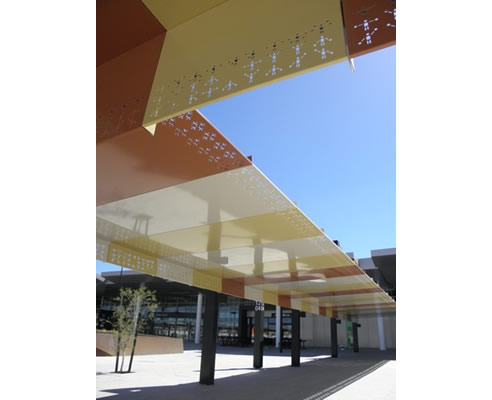 Mastermesh® Perforated Metal Canopies - Perth Airport new T2
NEPEAN Building & Infrastructure's Mastermesh® team recently supplied 1,500m2 of custom perforated metal canopies and walkway screens for the new domestic terminal at Perth Airport.
Our WA Mastermesh® team worked closely with the project architects to ensure the design brief was reflected and consulted with the builder and installer throughout the process to create custom perforations that were both functional and aesthetically pleasing.
A total of 256 panels were custom perforated in 3mm aluminium to create the metal canopies, all featuring stick figures and airplane motifs punched with special perforation tools.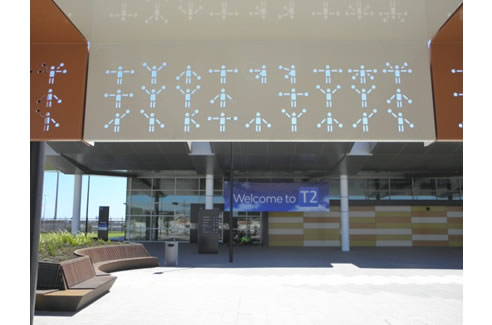 Perforated metal canopies at Perth Airport's new T2
The perforated panels, each 1500mm wide x 4000 mm long, were also folded and painted prior to installation and custom notches were also incorporated into the process to accommodate folding and to allow for quick site installation.
As part of the T2 project Mastermesh® also supplied 513m2 of 2mm perforated aluminium panels for the walkway screens.
More information on the new T2 project can be seen here http://www.seeperthairporttransform.com.au/projects/new-domestic-terminal-t2/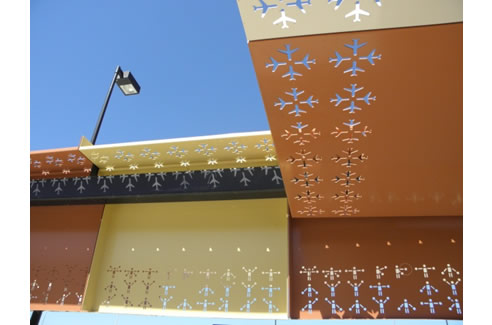 The quirky design features airplanes and stick figures demonstrating flag semaphore signs