Skylight Shading System 8800 from Silent Gliss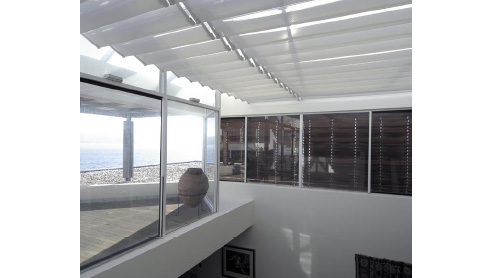 A new approach creates a unique look.
The Silent Gliss 8800 provides an innovative and extremely elegant way of shading large glass roofs, lobbies or large wintergardens by combining side profiles and fabric panels. The panels can be both tilted and fully retracted in order to optimise daylight management. Solar protection and a free view to the sky are possible at the same time.
Silent Gliss has selected a specific range of textiles for this application. Panel supporting parts are built in flame retardant and UV-resistant material. The panels can be retracted and removed for easy and efficient cleaning.
The System is suitable for glass roofs up to 36m2, as well as horizontal roofs and can be used for sloping applications up to a maximum angle of 30°.
This novel concept of using fabric louvres on glazing enables the sun to be redirected according to your needs. Using this innovative method of light shading it can radically alter the look of a room.