Architect Restores Eclectic Queenslander with PGH Bricks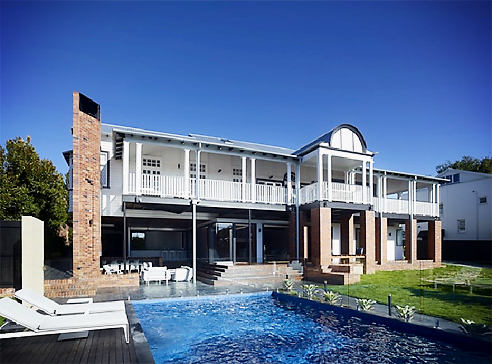 A contemporary combination of PGH bricks matches
historical design at the Monaise residence.
According to Queensland architect Shaun Lockyer, in nine out of 10 cases, he wouldn't usually try and match existing brickwork. However, in the case of this unique restoration project in the Brisbane suburb of Ascot, that's exactly what he recommended.
Shaun Lockyer Architects was invited to be involved in the project before the new owners had made an offer on the property.
"The house is a unique blend of traditional Queenslander, Colonial and Tudor architectural styles. During the fifties or sixties the brickwork was added to the base to lift the single level, and we used these existing structural elements and the outdoor piers as cues to continue the brickwork," said Lockyer. "We approached the project as a re-creation and restoration that required a contemporary finish.
"Not long after the property was purchased we met with the client in a café, where I sketched my design thoughts, and the finished home didn't divert much from that initial drawing. The client was very engaged in the project however they trusted our judgement and are very pleased with the outcome.
"As there had been an injection of brickwork to the house many years after the original construction, we felt there was some licence to try and match the existing brick colours. The PGH range offered us the best blend and availability for this project, and the guys we worked with visited the site to learn more about what we wanted to achieve, before recommending a mix," continued Lockyer.

13 15 79
NSW: 75 Townson Road, Schofields, NSW, 2762
QLD: Gate 1, Kimberley Street, Oxley, QLD, 4075
VIC:191 George Street, Wantirna South, VIC, 3152