Low-Maintenance Brick Exterior Statement from PGH Bricks & Pavers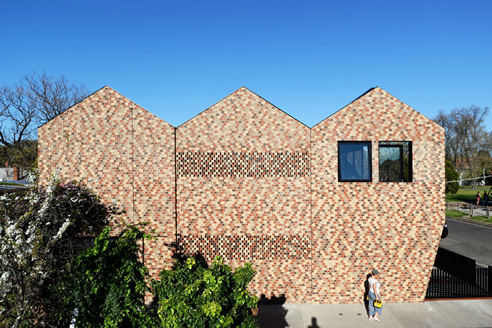 January 2016
Brick creates low-maintenance, statement exterior for inner city Brunswick house
Melbourne architecture practice KUD has embraced unique brick laying applications with PGH Bricks & Pavers to create a visually striking exterior for an exposed corner house in inner city Brunswick.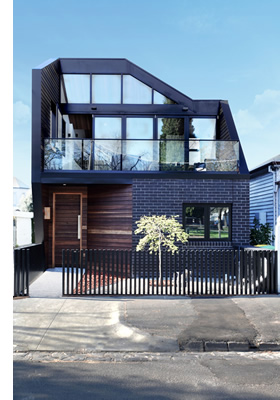 "The brief was to create a low-maintenance and private home. We were conscious of the site's corner location in busy Brunswick, and the privacy and security challenges that carried. Brick was the natural choice. As a robust and rigid material that requires no maintenance or painting, it stands up to rigours of inner city living," said Billy Kavellaris, director and founder of KUD.
Brick was used for the home's front and side exteriors. Challenging the traditionally blank side facades of terrace houses, KUD designed three pointed vaults that mirror the front-facing silhouette of a terrace. Each vault represented a different part of the house.
KUD conceptualised a jagged side exterior wall that doubled as an architectural feature and deterrent to vandals and passers-by. "We specified wire cut bricks, as these can be cleanly broken. The bricks were split down the middle and laid to expose the inside of the brick and hide the face. This created a textured and rough finish that is not conducive to graffiti and helps to prevent pedestrians from leaning on it," said Kavellaris.

13 15 79
NSW: 75 Townson Road, Schofields, NSW, 2762
QLD: Gate 1, Kimberley Street, Oxley, QLD, 4075
VIC:191 George Street, Wantirna South, VIC, 3152