High Pressure Foam Machine Available from Era Polymers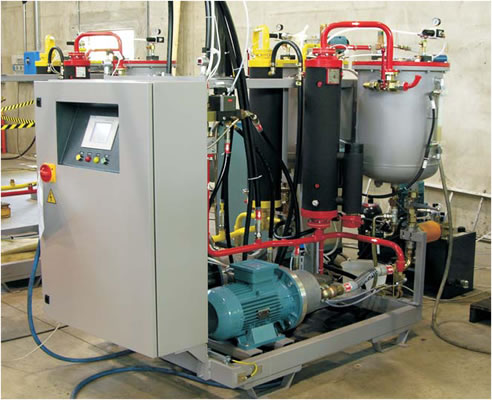 The Cannon A-Basic AN ENTRY LEVEL HIGH PRESSURE FOAM MACHINE
Do you want to progress from hand pouring or a low pressure machine?
Concerned about the capital investment?
The Cannon A-Basic machine is the natural step up to high pressure pouring as it is an ideal solution to production problems experienced by small to medium sized businesses. It provides simplicity of management, high technical and quality standards, efficiency and reliability all the while keeping investment costs low.
Era Polymers are the local agents for Cannon (Italy) in Australia. Not only can we assist in the installation of your machine; once your machine is up and running, we are able to back this up with a complement of spare parts and technical advice.
The Cannon A-Basic machine can be used for a wide variety of applications including; rigid low-density polyurethanes for thermal insulation, production of sandwich insulated panels, walk in coolers, refrigerator showcases and flexible foam for cushioning in the automotive and furniture industries.
Installation of the Cannon A-Basic machine is relatively straight forward as it requires no accessory wiring; it is ready for production with minimal commissioning!
For more information on the Cannon A-Basic please contact Era Polymers where one of our representatives will be able to assist you.