Panel Glide Blinds from Silent Gliss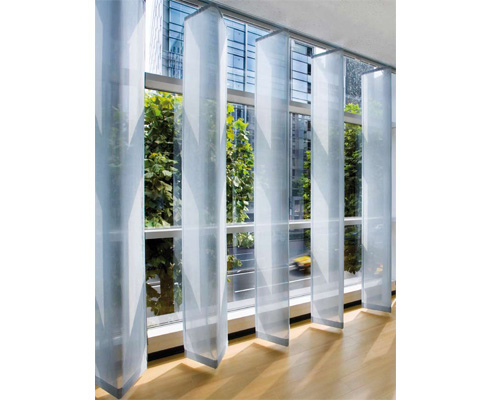 The idea of sliding panels for both functional and decorative interior use originated in Japanese cultural traditions.
Silent Gliss has applied this idea to today's interior design needs by combining the sophistication of Silent Gliss track technology with the originality and variety of today's fabric designs' colours and textures.
The result is the Silent Gliss 2500 Panel Glide system. A remarkable and creative approach to living space function and design.
The applications are as versatile and as stimulating as the designer's perception and imagination allows. As a striking window treatment' or as a mobile room divider for optimization of space' or even as a backdrop or a display.
This simple but effective product can be treated in many ways with the selection of fabrics and styles. With fabric economy in mind' Panel Glides become a competitive alternative to conventional curtains using less than half the fabric requirement.