Venetian Plaster Colours from Lustre FX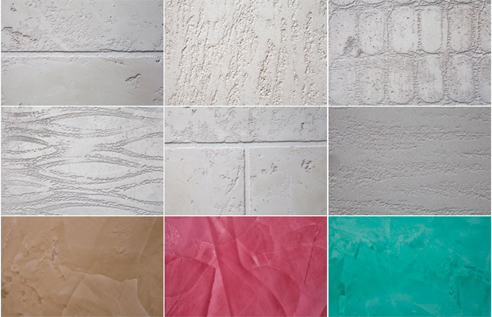 Lustre FX offer its clientele a number of Venetian Plaster colours they can choose from. They are listed below;
Smooth: The smooth polished finish is similar to the marmorino stucco, used extensively in northern Italy during the Renaissance period as a wall finish and a background for the ornate frescoes. It is this combination of material and technique that is now widely regarded as Venetian plaster. The final appearance of this finish is very dependent on the hand of the individual applicator, making it possible to achieve anything from a plain, lightly polished surface to a more highly burred and marbleised effect.
Pitted: The rugged, more grainy appearance combines with a less highly polished surface to create the appearance and feel of honed or lightly polished limestone. It is most effective when used to create the appearance of a monolithic stone surface or a natural stone block. This finish has a subtle quality and although not visually dramatic over large areas, it is used extensively as a rich backdrop for artwork and high fashion.
Colourwash: The Pitted or Dragged finishes can be further enhanced by the application of a Colourwash. A transparent glaze combined with pure pigment, metallic or pearlescent powder is applied to the plaster, enriching the surface, imparting contrasts of colour and subtle variations of tone. The Colourwashed finish, with its rich tones is ideal for large walls, feature areas and dramatic display backdrops, especially when combined with creative or dramatic lighting.