Travertine Drop Down Edge Pool Coping from Sareen Stone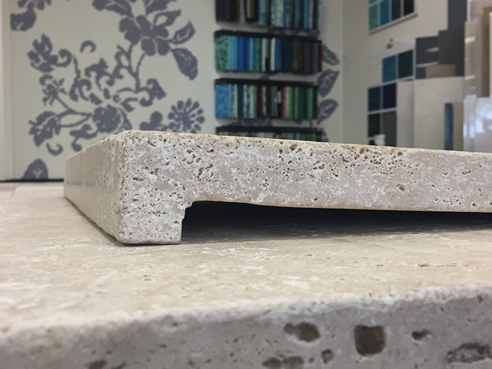 New Travertine product for Sareen Stone
Brand new to Sareen Stone's Travertine range of tiles and pavers is their First Choice Classic Travertine Tumbled drop down edge pool coping and step tread.
Supplied in one piece of stone, this exciting and innovative travertine product is a real time saver for landscapers and builders. The drop down edge pool coping and step tread is cut from one block of stone. This means a joint is unnecessary between the body of the paver and the drop down edge saving time in cutting and grouting.
These new travertine pool coping and step treads come in a tumbled finish perfect for outdoor areas and pool surrounds. Being a solid piece of stone, the result is a strong architectural look to the popular modern rectangular shaped pool.
They can also be used around an existing pool where the top course of the waterline tile has been removed. The longer drop down edge helps to conceal any discolouring or blemishes from the waterline area.
Sareen Stone's First Choice Classic Travertine all in one drop down edge pool coping and step tread comes in a thickness of 30mm with a 50mm drop down edge. This new product complements the existing range of First Choice Travertine tumbled pavers and tiles.