Sareen Stone Supply Tiles & Pavers for McMahons Point Restoration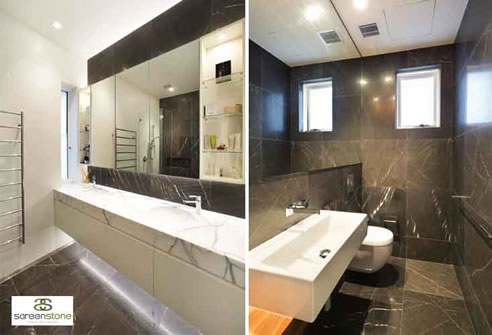 McMahons Point Terrace Restoration
Sareen Stone recently had the pleasure of working again with award winning construction and building management company Dobsonei on their Lavender Bay projects.
Specifically on the very stunning restoration of 1880's heritage listed terrace to its former glory with a modern twist at Waiwera Street, McMahons Point.
With a construction cost of $1.4 million, no expense was spared when constructing this very high detail, transformation from ruin to amazing harbor view terrace. Intensive attention to detail and budget focus the 10 month project, restored the existing terrace and addition with bespoke architectural detail.
With marble tiles and polished floors throughout, a new slate roof and architectural feature timber paneling this property was recently featured on Foxtel's 'Australia's Best Houses'.
The following Sareen Stone products were used in the stunning renovation;
- Pietra Grey 610 x 610 x 15 Honed + Bevelled Tiles. Applied to floor and walls, feature in Powder Room, Ensuite and Bathroom.
- Himalayan 600 x 600 x 15 Anti-Slip + Calibrated Tiles. Featured in courtyard and applied as carport wall cladding.
- Himalayan 600 x 600 x 30 Honed Pavers. Used as stepping stones and featured along side terrace leading into courtyard.
- Black Titan Basalt 600 x 300 x 30 Water Sandblasted Pavers. Applied to floor, featured inside carport.
To view the full article visit http://www.sareenstone.com.au/blog/project-of-the-month/project-of-the-month-mcmahons-point-terrace