Timber Laminate Flooring from Premium Floors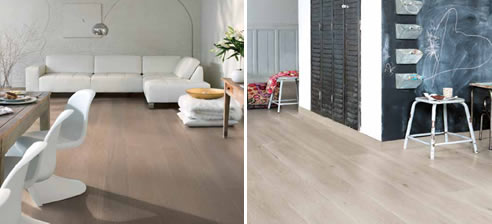 MAKING NEW YEAR'S RESOLUTIONS FOR YOUR HOME
With every New Year come the obligatory New Year's resolutions. From eating less chocolate, exercising more, to saving more and looking at new job prospects. This year, consider redirecting your energies in setting goals for your home that will make it more beautiful, comfortable and "greener". Leading flooring solutions brand Quick-Step sets out the best home improvement resolutions to kick start the New Year.
After another year of controlled chaos, we often find ourselves with cluttered minds and also a house that has accumulated disorder. Streamlining your possessions by culling unwanted items from cupboards and floors will make your home more updated and polished. Having a beautiful timber or laminate floor on show sets the scene for any room and colour palette. A floor covered in clutter screams disorganisation and bedlam. Take the time to go through each room and remove items you don't use or adore - perhaps give away or donate to a charity. Simplifying the number of items in the home makes home maintenance that little bit easier.
Creating a safe and sound haven should also be a resolution to be followed through. From heaters, smoke alarms, water leaks, to excessive dryer lint to asbestos and carbon monoxide, checking all potential hazards is a must. Water leaks may cause catastrophic and irreversible damage to floors and that could prove costly. Reducing bills and going green starts and ends with common sense. From switching off lights as you exit a room, turning off air conditioning when rooms are not in use to installing low-flow shower heads and LED lighting, these small steps will culminate into not only money in your pocket but shrinking the carbon footprint in the process.
Quick-Step prides itself on its innovative technology and its high esteem for sustainability and respecting the natural environment. Quick-Step is determined in making continuous efforts to minimise the ecological impacts of their products and processes. Every day Quick-Step seeks new ways to recycle, reduce, reuse, recover and renew throughout the entire Quick-Step manufacturing process. For example, Quick-Step laminate boards are made of more than 75% chips from sustainable wood sources.
A common New Year's resolution is to try and spend more time with family and friends but this vow is often not fulfilled if you feel your house is not suitable for entertaining. By adding a little flair, such as a new touch of colour, pot plant or even soft furnishings, pizzazz will be re injected back into your home. For the dedicated renovators, a new floor, whether it is timber, laminate, cork, bamboo or vinyl, will create the fresh palate that your home has been pining for. Coupled with some furniture rearranging, your home will be set to entertain by the masses!