Sustainable Floor Manufacturing by Quick-Step from Premium Floors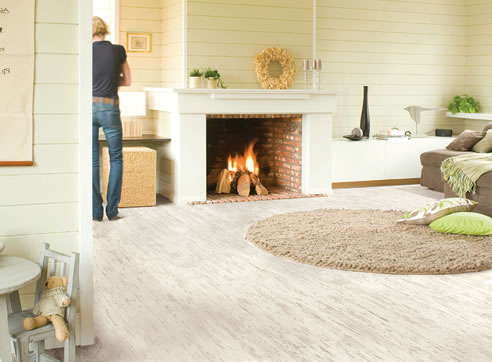 QUICK-STEP LEAPS AHEAD IN REDUCING CARBON FOOT PRINT
Leading flooring fashion house, Quick-Step, simply knows and loves flooring. In Australia, Quick-Step has consolidated its position as a powerhouse with smart and beautiful flooring that has graced homes with its ingenuity, splendour and charm.
Quick-Step also prides itself on its innovative technology and its high esteem for sustainability and respecting the natural environment. Quick-Step is determined in making continuous efforts to minimize the ecological impacts of their products and processes. Every day, Quick-Step seeks new ways to recycle, reduce, reuse, recover and renew throughout the entire Quick-Step manufacturing process.
Quick-Step uses carefully screened raw materials
Quick-Step Laminate
Quick-Step laminate boards are made of chips from sustainable wood sources. Not a single exotic tree is harvested to create our exotic laminate floors.
Quick-Step Timber
Wood that is used for face layer of Quick-Step's hardwood floors is only sourced from controlled or ecologically certified forests. As a middle layer, Quick-Step uses wood that is sourced from Hevea (i.e. rubber wood) plantations. When, after about 25 years, these trees no longer yield sufficient latex, they are logged. In the past, these trees used to be burnt, but now Quick-Step uses this wood to produce Quick-Step Timber floors.
Quick-Step Bamboo
Quick-Step Arc Bamboo is sourced from dedicated bamboo plantations that are regrown in five to six year cycles. What's more, it complies with the super low 'E0' emission rating.
Quick-Step glue and lacquer
Quick-Step glue, lacquer and oil meet the strictest international emission norms.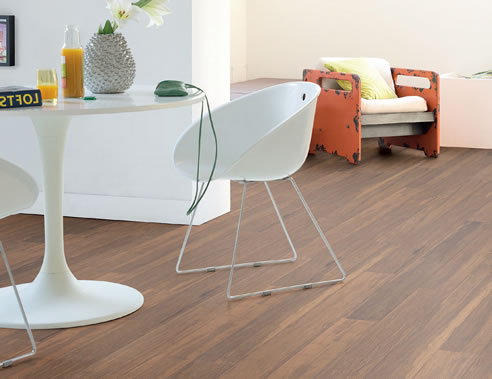 Ceruse | Arc | ABWCER
Quick-Step invests in energy-efficient production
Quick-Step has optimised the thermal energy management in its production facilities in Belgium and Malaysia. All wood waste from the milling and sawing processes is burnt in an incinerator and the resulting energy is reused to generate heat for the production of laminate and hard wood floors.
Quick-Step complies with CE Regulations
All Quick-Step timber floors are CE labelled. This means that they have met EU consumer, safety, health and environmental standards. All Quick-Step floors are tested in recognised laboratories and they meet the minimum requirements with ease.
All Quick-Step Bamboo floors have been granted independent environmental certification from the 'Forest Stewardship Council' (FSC).
All Quick-Step Laminates and Oak floors carry the PEFC mark (Programme for the Endorsement of Forest Certification), one of the most widely recognised and valued environmental certification schemes in the world.
Quick-Step and all other wood based flooring naturally captures CO2 into biomass (sequestration), thereby naturally reducing CO2 in the atmosphere and then accelerating the process through re-forestation.
According to Quick-Step's National Product Manager, Kendall Waller, Quick-Step is leaps and bounds ahead of the pack when it comes to the creation of flooring that has an environmental conscience.
"From raw material acquisition to state of the art production techniques and world leading environmental certification, Quick-Step has it covered."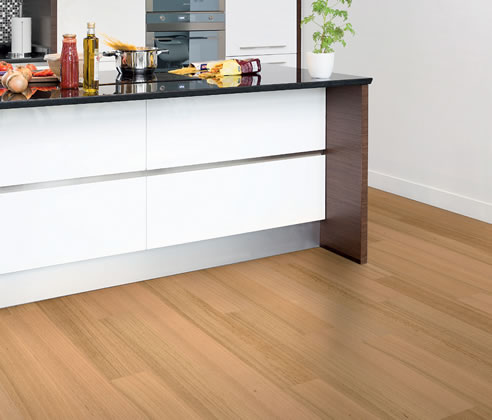 Tasmanian Oak 1 Strip | Readyflor | GMRF18TOSP