Water-Resistant Floors from Premium Floors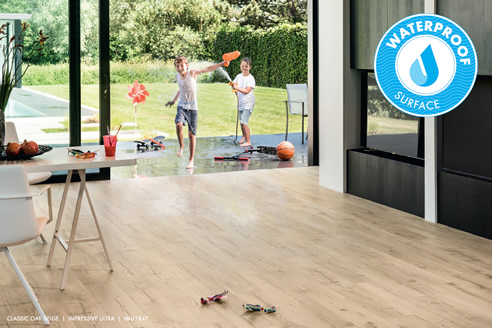 RAISING THE BAR FOR WATER-RESISTANT LAMINATE: QUICK-STEP®'S CASE FOR NEW STANDARDS.
How do you test the water-resistance of laminate? The water tightness of laminate is assessed through a swelling test. Floorboard samples are submerged in water and measured for swelling. The problem with this method? "It only tests the water resistance of the individual boards; not that of the installed floor as a whole", says Kendall Waller, National Product Manager. "That's why we've developed our own tests - which are more accurate, stricter and, above all, representative of real-life situations."
MOPPING THE FLOOR WITH IMPERMEABILITY
One way to test whether an installed laminate floor is watertight is through a mop test. Kendall explains: "This lab test consists of covering the installed floor with wet mops for 14 hours. We don't just use water, but also add soap. This makes for a more rigid trial, as soap reduces the water's surface tension. Then we assess: Is water seeping through the joints? Is there any surface damage or swelling?"
NOTHING SLIPS THROUGH THE CRACKS
An equally strict - if not stricter - evaluation of a floor's water resistance is Quick-Step's cylinder test. "By placing a cylinder on the T-shaped connections of installed floorboards and filling it with water and soap, the bevels and installation quality are put to the test", Kendall explains. "After 4, 12 or even 24 hours, swelling is measured and assessed. We have never seen an increase of over 0.05 mm. In addition, the permeability of all points of contact is analyzed. And we're also testing with other fluids than water and soap - e.g. wine and pet urine - but our floors still score equally well."