Laminate & Timber Flooring on Walls & Ceilings from Premium Floors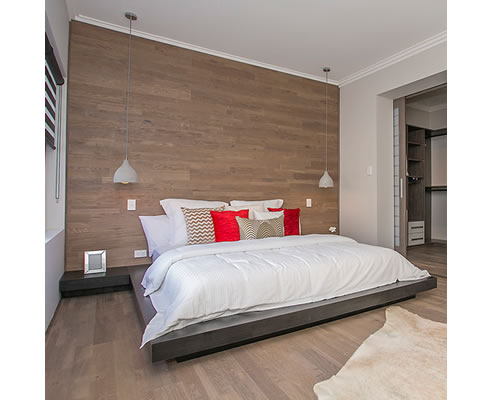 THINKING OUTSIDE THE BOX
LAMINATE AND TIMBER FLOORING ON THE WALLS AND CEILING
Luscious laminate and tantalising timber flooring creates a statement in any home. It establishes a fresh palate to a room that exudes freshness or warmth - depending on the colour, texture and style of flooring you choose.
Wall tiles have been a permanent fixture in modern and classic bathrooms around Australia for some time, with the look being polished, spacious and fresh. Quick-Step's laminate and timber flooring can be installed on walls and ceilings to create a whole new look to other rooms of the home that would have otherwise been peripheral and bare.
Like a five-star hotel, the use of timber on walls exudes class and grandeur. Timber floor panels on the walls will also create a slick, contemporary focal point or feature wall to any living or bedroom. The symmetry and flow from wall to floor will be fluid and sassy. For the ceiling, timber panels will create a cosiness and warmth that resembles a log cabin or inviting restaurant.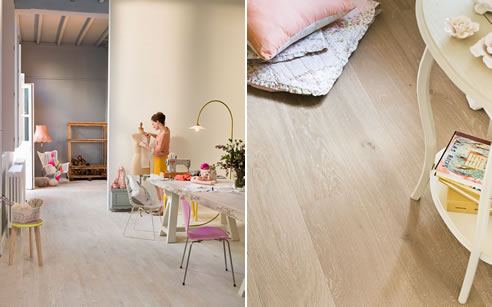 PAINTED WHITE OAK OILED | VARIANO VAR 1629 and LIMED GREY OAK | QSWPAL 1345
According to founder and Managing Director of Million Dollar Makeover, Sasha de Bretton, injecting a splash of timber on the walls enhances the notion of a feature wall to another creative dimension. "At Million Dollar Makeovers, we recently installed the luscious Quick-Step Variano on one of the walls in the bedroom. The result is a mix of polished glamour, contemporary style and uncompromising originality. The clean lines showcased in the flooring give you a jaw-dropping result on the walls that allow soft furnishings to shine." she said.
Laminate, with its vast colour and texture suite on offer, will create a dynamic and eye-popping contrast on the walls and ceiling. Whether it is a striking grey panel laminate wall feature or white panels to complement the floors, laminate will be an affordable and effective timber alternative that compromising on style. The unexpected detail in having laminate as a focal point on a wall will create a lasting impression in any home.
Whether it is laminate or timber flooring, extending the panels to the wall or ceiling is undoubtedly a statement piece that will get tongues wagging for its ingenuity and pizazz.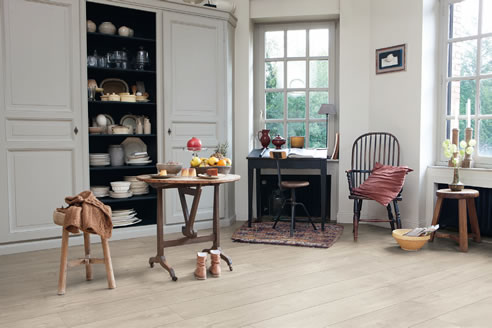 DOMINICANO OAK GREY | LARGO LPU 1663