Bedroom Flooring with Quick-Step from Premium Flooring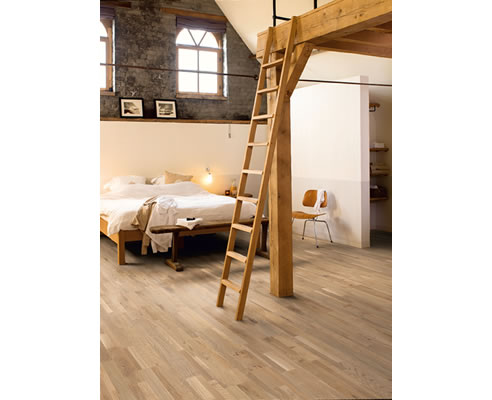 SWEET DREAMS IN STYLE: A NEW FLOOR FOR YOUR BEDROOM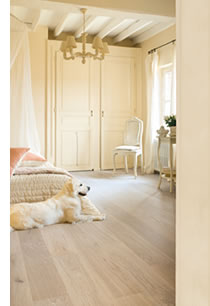 Your bedroom is the room you will spend the most time in your whole life. It is the room where comfort and ambiance is paramount. Choosing the perfect floor that complements varied tastes and functionality can be a challenge. Quick-Step has the breadth of choice that will make the decision much easier to reach.
SLUMBER TIMBER
An affordable alternative for solid wood, engineered wood floors are among the all-time favourites in bedroom flooring. They go well with all types of styles. The natural wood look simply exudes the peace and tranquillity generally sought in a sleeping environment.
From the Variano, Imperio to the palatial Palazzo, Quick-Step timber floors are pristine by name and premium by nature. And thanks to the lifetime warranty on all Quick-Step engineered wood floors, you'll enjoy them for years to come.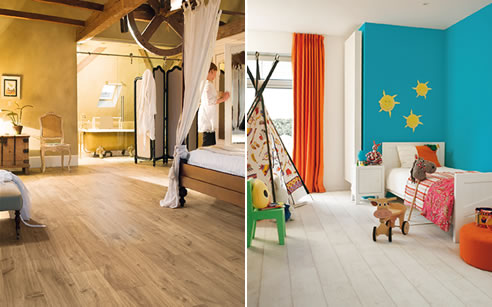 Midnight oak natural | Classic QSM 057 & Bleached White Teak | Classic QSM 031
A LAMINATE LOVE NEST
Quick-Step's laminate floors offer a wide choice of designs to match any bedroom style: planks or tiles, modern or traditional, you name it! What's more, the hard core boards in combination with a Quick-Step underlay guarantee a solid, pleasant sound when walked upon.
From the exquisite Eligna, luscious Largo to the Classic Colonial, Quick-Step has it covered when it comes to prestine laminate that has the look and feel of real timber, minus the price tag.
BEDROOM BAMBOO
For lovers of timber flooring, Quick-Step ARC Bamboo combines pure innovation and nature.
Quick-Step ARC Bamboo is not only unique in its good looks, but strikes a pose with its long and wide boards and its incomparable strength, extreme density and durability. It is simply a perfect addition to any bedroom.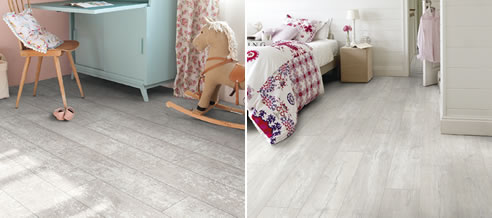 Painted Oak Light White | Livyn ESV016 & Patina Oak Light White | Livyn ESV007
LIVYN THE DREAM
Vinyl flooring is becoming more and more popular in bedroom settings. Quick-Step's Livyn Essential V4 is a collection of comfortable quality floors that combine the natural look of wood with the practical benefits of vinyl.
Because they feel warm and soft, they are a treat for bare feet, and they reduce step noise. As vinyl is an excellent thermal conductor, it's the ideal choice for usage in combination with underfloor heating or cooling.
CORK COMFORT IN THE BEDROOM
ReadyCork Vita, by Premium Floors, is the definitive choice in cork floating floors in Australia. Cork is one of the original environmental friendly products. Cork is also naturally hypoallergenic and with the patented Microban treatment, the growth of stain and odour causing bacteria, mould and mildew is inhibited. Cork is also 50 per cent air, it is impact resistant thanks to its 'natural memory' and due to its outstanding sound insulation properties, reduces noise. Cork is also hypoallergenic and is perfect for people with allergies - a perfect foundation for the bedroom.
With the suite of flooring choices available, the hardest decision for the bedroom is which bed to choose.