Spring Style for Flooring from Premium Floors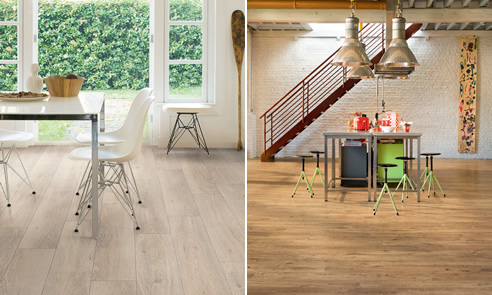 SPRING INTO ACTION THIS SPRING WITH YOUR FLOORING

With the onset of Spring fast-approaching, interior furnishing enthusiasts, DIY renovators and all lovers of interior design are giving their homes a well-deserved spring clean and giving their loved homes the rejuvenation and spark it deserves, starting with the floors. Flooring is a canvas on which to build an interior. Rather than choosing paint, furniture, accessories first, the floor should be the first port of call in creating that all-important foundation to the room. Work from the ground up! With flooring being a significant investment in anyone's book, this Spring, decide on a flooring that exudes freshness, style and spaciousness. The style and appearance of your room is determined by the colour of your floor. For the vibrancy and freshness of Spring, flooring in natural tones and white tones sets the stage. Then, allow the creative juices to flow with a peppering of spring colours in rugs, soft furnishing and accessories. Colours such as Monaco Blue, Poppy Red and Nectarine will make your room pop and create a zesty and appetising presence. Beiges, pale yellow tones, light oak, beech maple are classic neutral tones that not only defy trends but create a subtlety and freshness in a room that is incomparable. Light, natural tones can make a dark room feel sunnier.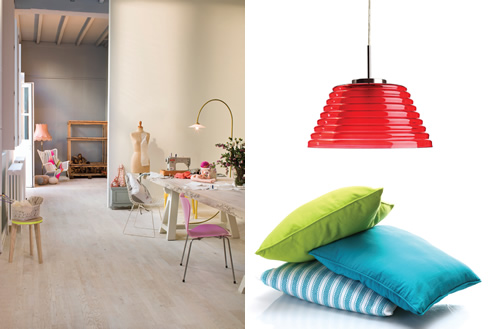 Complement that with elements of African Violet, Emerald and Dusk Blue which will set the scene for a 'springsational' room. With a white floor, a spring flooring renovation goes into overdrive. White floors are increasing in popularity as they make a room feel more spacious and bring a light, airy ambiance to a home. If teaming with light walls, introduce bold, colourful accents through furnishings and accessories. That explosion of colour will emulate spring in leaps and bounds! With a blank canvas, a myriad of patterns, textures and colour will come alive in every room. Spring 2013 is the season to be vibrant and adventurous, especially with the abundance of colour palettes available. To create a spacious effect use skirting board that is the same colour as the floor. When the skirting is the same colour as the wall, a floor will appear smaller. For all your flooring decisions, it is important to take home a suite of your favourite flooring options, whether it is laminate, cork, bamboo or timber, to see how it works in your space. This Spring, start with a bang in providing a clean palette to your room and spring into action with your interior design prowess!


Premium Floors Australia Pty Ltd Profile
03 9798 0808
81-87 South Park Drive, Dandenong South, VIC 3175, Australia