Stable Vinyl Flooring by Quick-Step from Premium Floors Australia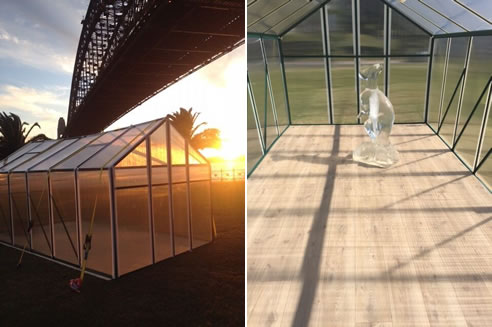 BALANCE CLICK SHINES IN THE AUSSIE SUN
What happens when you combine a glasshouse, a life-size kangaroo ice sculpture and 12sqm of Quick-Step's Balance Click vinyl flooring in the heart of Sydney on a scorching summer day? On face value, it was a bizarre combination, but at day's end, the results spoke for themselves.
In an Australian-first, leading flooring brand, Quick-Step, has proven that Balance Click luxury vinyl is the world's most stable vinyl flooring. With most floating vinyl flooring planks on the market, their Achilles' Heel is direct sunlight. When it heats up, it expands and lifts, when it cools down, the flooring shrinks and gaps appear. Not Quick-Step Balance Click. Stability is its middle name.
To prove Balance Click's superiority, the Quick-Step Australian team, led by National Product and Technical Manager, Kendall Waller, created a unique and innovative experiment like no other. The experiment would prove that Balance Click has the lowest rate of movement to temperature change in the world and to prove Balance Click is sunshine proof.
The iconic Sydney Harbour Bridge was chosen as the perfect backdrop. A 4.5 metre x 3 metre glass greenhouse was built, ready for one of the hottest summer days in Sydney. Next, Balance Click Oak Natural was laid inside the greenhouse. To complete the picture, an ice sculpture in the shape of a kangaroo was positioned on the Balance Click floor before dawn, ready to melt away when the sun came up.