Engineered Wooden Flooring by Quick-Step from Premium Floors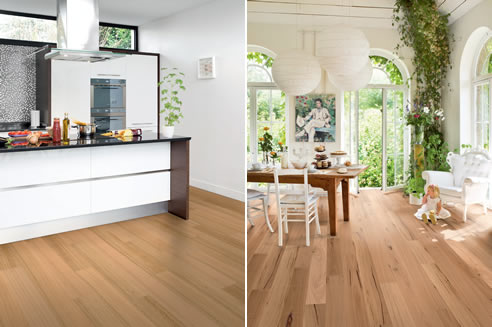 Set your sights on timber flooring at its finest - sashay to Quick-Step ReadyFlor

Quick-Step ReadyFlor is Australia's leader in pre-finished timber floor and there are good reasons for this. Setting aside its opulence, exceptional beauty and vibrancy, the story behind Quick-Step ReadyFlor timber flooring sets the scene on why it is the premium choice for customers Australia-wide. World-leading technology It is, unlike any other timber flooring options, prefinished with six coats of hard wearing UV lacquer, fast and easy to install and maintain, as well as being sold with a Lifetime Structural Warranty and a 25 Year Residential Wear Warranty. Quick-Step ReadyFlor simply knows how to create a perfectly engineered wooden floor that is natural and stylish. The 33- strong range that is Quick-Step ReadyFlor consists of three layers of stable, hard and durable wood. As wood is particularly influenced by fluctuations in temperature and humidity, it is essential that the various layers of the planks are perfectly attuned to each other. The core of the engineered wooden floor sets Quick-Step ReadyFlor apart from other timber floors. The core layer perfectly absorbs stress and strain, and ensures that the floor remains stable in all conditions. The balance between the hardness and the flexibility of the core material is a key in ensuring a smooth click and a strong connection. Only a careful selection of raw materials combined with a perfect control of moisture content during this production process, optimum stability and durability of your floor can be guaranteed. Ground-breaking innovation and resources Quick-Step ReadyFlor is available in a wide range of timber species as well as three different designer styles, tailoring the product well to a wide range of budgets and individual tastes. Quick-Step ReadyFlor is also up to 15 times less likely to shrink and expand than a solid timber floor. What's more, ReadyFlor can be re-sanded as many times as a solid traditional timber floorboard. The use of rubber wood (hevea brasiliensis) as the core of all products in the ReadyFlor range adds strong environmental credentials to this truly remarkable product perfect for almost any residential or commercial project. The no-glue, click system, Uniclic Multifit system has been specifically designed and developed by Quick-Step for its wooden flooring. Outshines competition A lot of timber floor manufacturers combine small wood pieces into one plank in order to use as much 'waste' as possible. These full size planks thus consist of several smaller pieces, which reduce the appeal of the total installed floor. ReadyFlor has less nested lengths than any other brand in the market due to better manufacturing processes and clever recycling methods. From the tantalising Tasmanian Oak, magnificent Merbau to the opulent Oak Ashen and the sensational Spotted Gum, Quick-Step ReadyFlor floors is timber floor in its finest.


Premium Floors Australia Pty Ltd Profile
03 9798 0808
81-87 South Park Drive, Dandenong South, VIC 3175, Australia