Timber Joist Underfloor Heating from dPP Hydronic Heating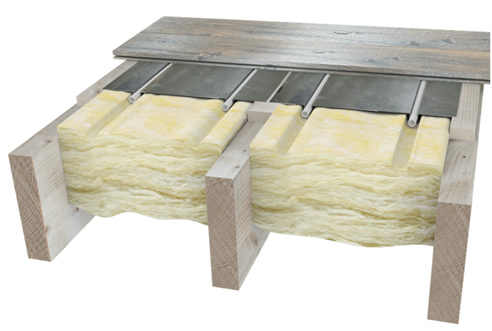 dPP Hydronic Heating are proud to offer Timber joist hydronic underfloor heating, which is now an option when the sub floor is timber by using heat emission plates. The heat emission plate conducts the heat energy from the hot water pipe that is laid within it, and this turns the whole floor into a radiant heater producing that amazingly comfortable warm home that hydronic floor heating is known for. It is an ideal heating solution for heating large open living areas such as kitchens, living and dining areas as well as bathrooms that are built on timber joists.
What is Heat Emission Plate?
Heat emission plate is an alluminium panel that can be installed along timber joist so that you can have hydronic heated floors with a timber sub floor. It is where the pipes that carry the heated water are laid along the groove within a heat emission panel. The pipes are laid 200mm apart in a snake like pattern to and from the manifold in 100m lengths. Each circuit covers around 20 square metres of floor space.
Our multi-layered specialist pvc pipes are 16mm Uponor Pex Pipe, made in Germany and inserted directly into the heat emission plate, and the sheet flooring is installed over the top. When in operation the floor heating thermostat will call for hot water from the boiler. A hydronic heating boiler will heat the water and pump it through the pipe at 50°C transferring its heat into the heat emission plate, this heat then radiates through the home similar to how a brick wall radiates heat after the sun goes down on a summers day.