Bliss-Fox ground support equipment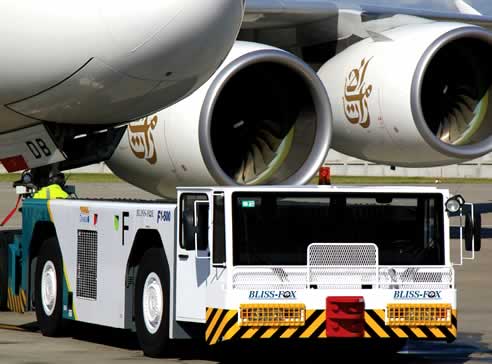 Bliss-Fox GSE have been supplying world class aircraft push back and tow tractors for over 40 years. We offer the complete package in aircraft tow tractors, from design and manufacture to sales and maintenance.
Bliss-Fox GSE is a specialist division of the Australian-owned and highly regarded Nepean Group, a company with a long history of engineering excellence. Offering a range of world-class pushback and tow tractors for the aviation industry and general industrial markets, Bliss-Fox GSE is rapidly gaining wider international recognition and acclaim for equipment that combines quality, reliability and innovative design.
Significant investment in research and development has ensured that Bliss-Fox products always remain at the cutting edge of the field.
Many international airlines, airports and ground handling companies already depend on the Bliss-Fox team for their aircraft towing and new equipment needs. Bliss-Fox GSE prides itself on offering a "complete solution" for clients through its International Sales and Distribution Service as well as an on-going maintenance programme for towing equipment, regardless of the original manufacturer.
Bliss-Fox's expanded operations include dedicated teams servicing clients' operations with on-the-ground support in overseas locations. The highly-skilled engineering design and manufacturing team at Bliss-Fox is based at the Australian plant in South Western Sydney and our joint production facility in Thailand. We are ISO 9002 accredited and our facilities feature state-of-the-art equipment including extensive machine rooms, fabrication bays, assembly lines, tool rooms.
With the support and combined resources of the Nepean Group, Australia's leading privately owned, specialised engineering & industrial manufacturing group, Bliss-Fox GSE will continue to expand internationally and further develop its already impressive product range.