Company-Wide Rebranding Completed with New Website from Nepean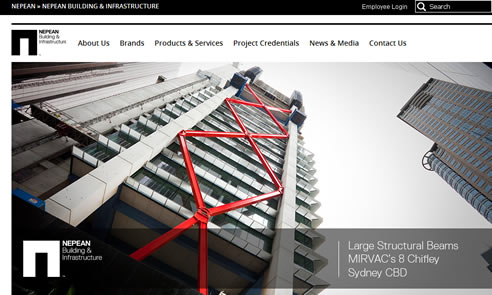 NEPEAN Building & Infrastructure, originally founded as the Graham Group, is Australia's leading privately owned integrated manufacturer of large steel structures and associated metal products. We service Australia's industrial, construction, architectural, infrastructure and mining segments.

NEPEAN Building & Infrastructure completed their company-wide rebranding process in 2012 and are now pleased to announce the release of a brand new website featuring the complete range of products and services: www.nepean.com/building The new website provides full product and service information for the following famous iconic Brands:
Weldlok® Grating, Handrail & Drainage products including the original Weldlok® Balltube® handrail system, Weldlok® Forgebar® grating, Weldlok® drainage products and Weldlok® fibreglass walkway grating,
Mastermesh® Perforated & Expanded metal and wire mesh products,
Galintel® hot rolled, galvanised proprietary lintel bars. The specialised steel building material includes the Cavi-T-Bar™, J-Bar™ and Rendabar® Angle,
Galserv® Galvanising Services, a full service hot dip galvanising and surface treatment solution for the building, construction, infrastructure and mining segments,
NEPEAN Structures offering structural steel documentation, fabrication and erection for high rise, retail, industrial and public buildings and mining and infrastructure projects.
The new Products & Services section is particularly browser friendly, giving easy access to the full range of products and services relevant to these market segments - Architectural, Civil, Construction, Galvanising, Industrial and Mining. Under Architectural Products all metal products are now presented as a comprehensive architectural range including Mastermesh® perforated metal architectural facades and custom perforated solutions along with Weldlok® steel, aluminium and FRP grating & handrail products. The new Project Credentials section also lists some of NEPEAN Building & Infrastructure's latest exciting projects including landmark project 8 Chifley Square in Sydney CBD and the new Edwin Flack Bridge in Melbourne's Olympic Park.


02 9707 5088
117-153 Rockwood Road, Yagoona, NSW, 2199