Online Interior Design Tool from Premium Floors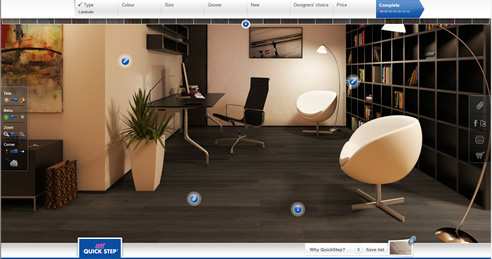 Australia's leading flooring specialist, Quick Step, continues to bring inspiration to interior design with the free online visualisation tool called Floor Advisor being used around the world at http://www.quick-step.com/flooradvisor/default.aspx

Quick Step knows that the choice of a new floor has an overall impact on any interior design project. It is not just a floor, but one of the most dominant colour surfaces in the room. The floor sets the scene for the entire room. Among the extensive suite of floor offerings, you need to select a floor in perfect harmony with your furniture, accessories, soft furnishings and wall colours. This is certainly no easy feat. Quick Step is determined to make life easier with Floor Advisor by allowing you to immediately see what your floor would look like in your own interior. The first choice most people need to make is whether to go for laminate or real engineered wood. Although both floor types are similar in appearance, they are quite different. To help you make the right choice from the outset, Quick-Step guides you through the benefits laminate and real engineered wood each have to offer. Next, you select the type of room you are looking to decorate or renovate or you upload a photo of your own room. Model the room by painting the walls and see for yourself which Quick-Step floor is the best for your interior.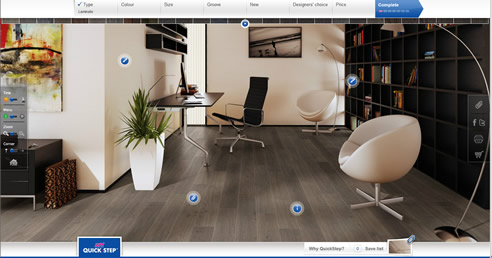 Quick-Step Floor Advisor guides you step by step to help you select a matching Quick-Step floor with lots of tips and information accessible via the menus for type, colour, size, joint, etc. To give you an even more realistic idea of how things will look, you can simulate daytime or night-time to find out what your Quick-Step floor will look like around the clock. Once you've selected the floor, a text balloon pop ups showing additional information. The information provided by the Quick-Step Floor Advisor ensures that the parquet or laminate floor you have chosen is the most suitable floor for your requirements. The Floor Advisor is simple to use and features cutting edge technology that will make the floor purchasing choice so much easier.


Premium Floors Australia Pty Ltd Profile
03 9798 0808
81-87 South Park Drive, Dandenong South, VIC 3175, Australia