Weldlok® Balltube hand rail system from Nepean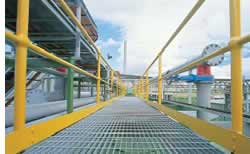 Weldlok Industries, a wholly Australian owned division of the Graham Group, manufactures Balltube handrail system. The Weldlok Balltube handrail system meets need for cost and time saving techniques in the installation of walkways, stairs and ladders.
The advantages of Balltube handrail system are that it allows for speedy erection and finishing with a minimum of on-site welding. This results in considerable savings in time and labour costs.
The components delivered on-site consist of fully galvanised stanchions, rails, bends, kick-plates, slip-joints, closures, etc., ready for trouble-free erection.
On-site, the stanchions are loosely bolted in position; rails are then passed through the ball joints of each stanchion with any rail joins concealed within the ball.
Bends, closures, etc., are positioned and then all stanchions securely bolted down. Rails are then welded at each ball, and bends and corner joints fully welded and ground.
Finally, all welds are primed with zinc-rich paint, resulting in an aesthetically pleasing structure, completely zinc protected against corrosion.
Weldlok precision servicing gives you the added advantages of the best of modern physical resources - equipment, facilities, quality control systems and techniques, including a modern galvanising facility - all under one roof.
These resources are backed by Weldlok Industries' team of experienced personnel, ensuring immediate attention, speedy coordinated follow through and quick delivery service.
A further advantage of the Weldlok service is that when required it can supply the total package - Balltube handrail systems, forgebar gratings, stair treads and walkway modules.