Hip Girder Bracket from MiTek Australia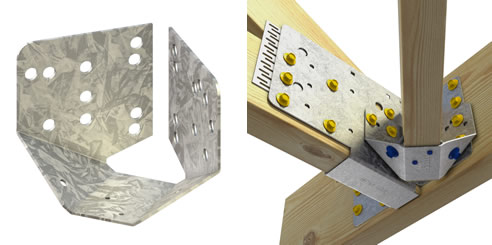 The Hip Girder Bracket (HGB35) has been designed to assist in the fixing of a diagonal hip truss or hip rafter to a girder truss bottom chord in conjunction with a MiTek FastFit MkIII (GB340) or MiTek FastFit MkIV (GB440/475) Girder Bracket.
The fixing holes in HGB35 have been designed to align with those on the FastFit Girder Bracket to share the same screws in fixing to the perpendicular incoming truss and girder truss. The MiTek MSA1430 and MSA1465 anti-split self-drilling screws do not require pre-drilling into any underlying MiTek connector plate blocking the holes as they self-tap their way through with ease.
The specially designed self-guiding holes on the sloping sides of HGB35 will also hold the MSA1465 screws straight and true and direct them at the correct angle to ease fixing into the diagonal hip truss.
This Patent Pending product can be fitted on either side of the Fast Fit Girder Bracket and does not have any screw heads protruding below the bottom chord level thereby avoiding any interference with the finishing of the plasterboard ceiling.
Please contact your local state office for more details.