Protection of Civil Water Assets with Geopress K by Viega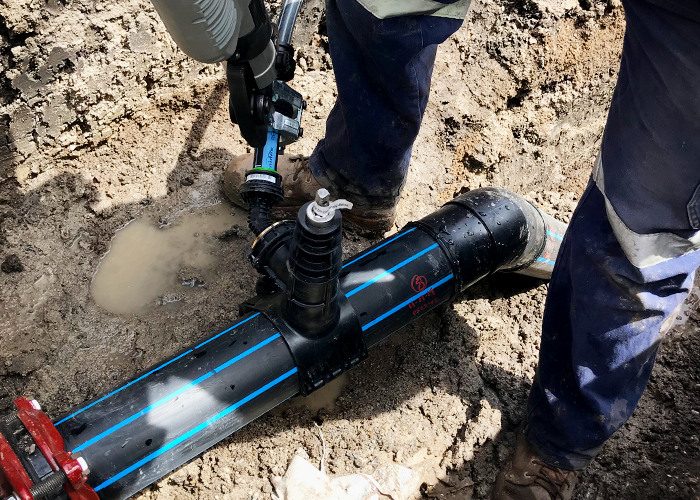 MRWA approves Geopress K to help protect valuable water assets
Engineers predict Viega system will transform underground pipeline works
Sydney, Australia - Tuesday 5 May, 2020: Viega's Geopress K underground piping system has been approved by Melbourne Retail Water Agencies (MRWA) to be used in the management and protection of the city's major water resources. The announcement comes after a successful field trial with a Victorian Government owned retail water corporation that supplies around 100 billion litres of drinking water each year to customers.
Engineers at City West Water, which provides drinking water, sewerage, trade waste, and recycled water services in Melbourne's central business district, inner, and western suburbs, describe the revolutionary system as a game changing product.
"I see Geopress K as being a major player in the market and changing the way works are done," says Programmed Water Operations Manager Dylan Thomas. Programmed provides maintenance services for City West Water across Melbourne's West.
Manufactured from first-grade Polymer materials and non-ferrous components, Geopress K is a more efficient and cost-effective method for SDR11 HDPE pipes for potable water and recycled water applications.
"The only options we had to connect poly pipes prior to Geopress K were either welding techniques or mechanical fittings and both can be problematic," says Thomas. "Welding take specialised equipment and is not maintenance-friendly - your only option is to cut out and replace damaged pieces - while mechanical systems don't react well to movement, so when atmospheric conditions cause pipes to shrink and expand, the fittings can move and fail."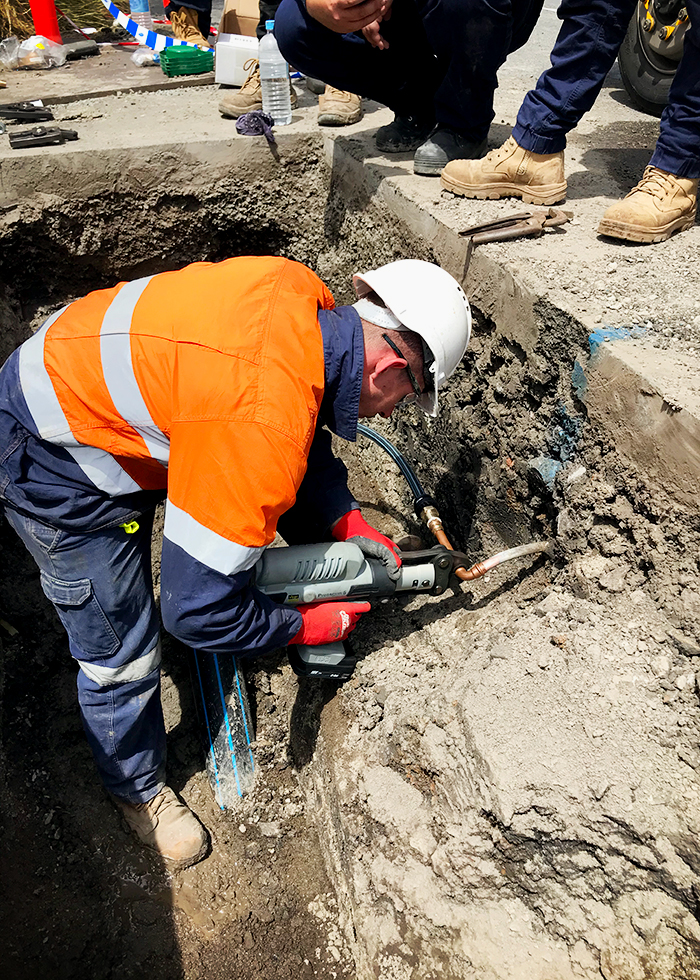 Protecting valuable water assets
Thomas says Geopress K's installation credentials were appealing because it "looked easy to install and offered more effective solutions for the long-term."
"Viega's products are very user-friendly and it's especially comforting knowing that they have been through rigorous testing processes," he explains. "We were impressed to learn during our training sessions just how much quality control the products go thought at Viega."
With billions of water lost each year to due ill-fitting, leaking pipes, Thomas says Viega's Geopress K not only provides peace of mind but also saves money.
"Any leak obviously has a water loss factor as well as a money factor to it, which is compounded when you have multiple leaks on the one system," says Thomas. "So, any opportunity where you can avoid going back to, is definitely an advantage."
Quick and easy installation of underground supply lines
What makes Geopress K so significant to the gas and utilities, plumbing, engineering, and civil engineering sectors is its revolutionary tapping valve, which combines a tapping band and isolation valve within the one device.
"There's nothing else like it in the market," says Glenn Lewindon, Civil & Utilities Account Manager at Viega. "Live tapping of the main supply line takes only a few minutes. And, due to the integrated miller for PE pipes, drilling can be carried out without having to use an external drilling machine - or disconnecting water from the main line."
Viega's Geopress K system is free of elastomers and its Glass Fiber-reinforced, high-strength polymer connectors feature internal sealing, which allows pipes with damaged surfaces to be permanently pressed without preparation. Supply lines can be quickly and easily installed.
"These features make our connectors the perfect choice for harsh underground conditions," says Lewindon. "The system also means no hot works, generators or pipe preparation are required. It offers the reliability of permanent-press connection technology with internal sealing that's robust and extremely economical. Put simply, in our opinion, it's the most reliable underground supply line solution."