Colourful Library Fit Out Featuring Perspex from Mitchell Group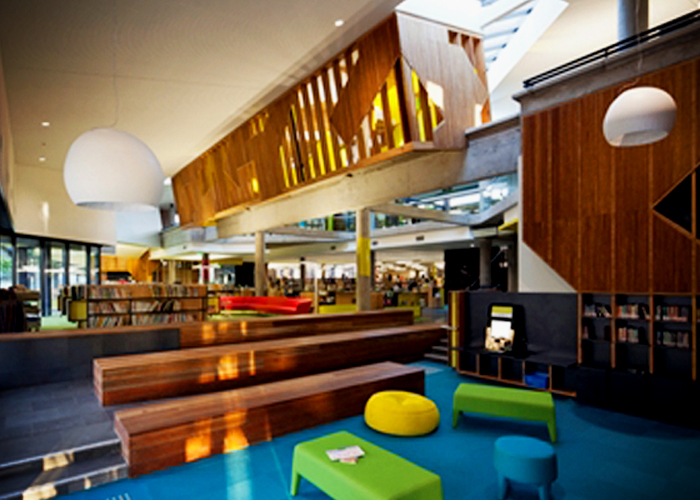 Kaleidoscope of light and colour with Perspex
A bamboo veneer cladded 'lantern' hangs in the middle of Bendigo Library, drawing glances from visitors, and is an attraction in its own right. Picking up the shape of the building's partial hexagonal atrium, the lantern is made from Leto Bamboo's 'Strand Woven'. It is further transformed with the inclusion of Solar Yellow Perspex - a fluorescent Perspex that is traditionally used in the world of retail display and point of sale, where floor space is precious and every buyer's attention is competed for. Its use in a library is therefore unusual, but this unexpected design move has transformed a mere timber lantern into a kaleidoscope of light and colour.
Used with mirror veneers, the passing light of day comes through the 'lantern' and bounces off its surface. So when visitors look up at it, they can either see through it or see their own reflections.
Solar Yellow Perspex is a part of the Perspex Fluorescent range, which also includes Acid Green, Lava Orange, Mars Red, and Neptune Blue. The range is developed with all the benefits of Perspex®, whilst giving an extra edge - an intense and vibrant effect unlike any other.
Architect/Design: MGS Architects, Melbourne.
Construction/Joinery: Creador Joinery, Melbourne.
Solutions Used: Perspex® Fluorescent Solar Yellow.