Frosted Perspex for Gym Bathrooms by Mitchell Laminates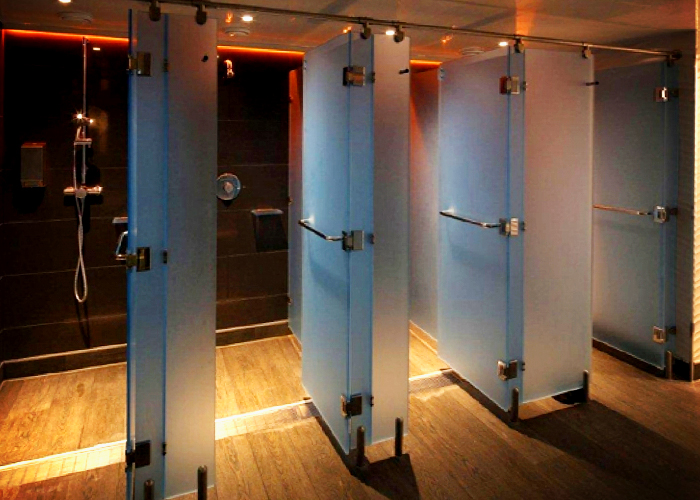 Mitchell Laminates is an authorised distributor of these highly sought-after Frosted Perspex® doors (known as LuciteLux® Frost in the USA). Made of durable thermoplastic material, these cutting-edge doors are proven to last longer and provide better insulation than their counterparts. Perfect for almost every application imaginable.
Frosted Perspex® for Gym Bathrooms
Frosted Perspex® bathroom doors were specified for the refurbishment of Fitness First's South Kensington branch in London. With more than 1 million members across 21 countries, this large privately owned health club is passionate about building engaging facilities that will deliver the ultimate workout experience. For their South Kensington branch, they needed a new set of quality doors that could guarantee optimum durability, comfort, and a practical design that would blend with their architectural style.
Instead of fragile glass, they opted for these Frosted Perspex® acrylic doors due to their ability to withstand high levels of traffic while remaining in a stable, pristine condition. The acrylic doors were fitted with stainless steel tubular head-rails with pedestals for feet and were mounted in the shower and changing rooms. The uniform frost appearance on both sides of the door panels also provided superior comfort, privacy, and peace of mind for the club members.
Learn more about Frosted Perspex® by heading over to www.mitchellgroup.com.au today.