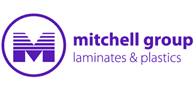 Company Profile
Mitchell Laminates shares a genuine passion for servicing customers with innovative design solutions. As a family owned and run business for over 60 years, Mitchell Laminates has built a reputation within the cabinet making and kitchen manufacturing industries, for treating customers like family. Whether it's an order for one sheet or two hundred sheets, Mitchell's believes in a customer service ethic which has long since been forgotten.

At Mitchell's we believe in building relationships, not just with our customers, but also our suppliers. Over the last 60 years Mitchell's have established strong relationships with some of this country's leading manufacturers, allowing us to offer a unique range of top quality brands.
Mitchell Group Australia
03 9558 0800
32-38 Redwood Drive, Dingley, Vic, 3172
* If you would like to update the text on your profile page, please contact Spec-Net.