Acrylic Outdoor Architectural Fins from Mitchell Group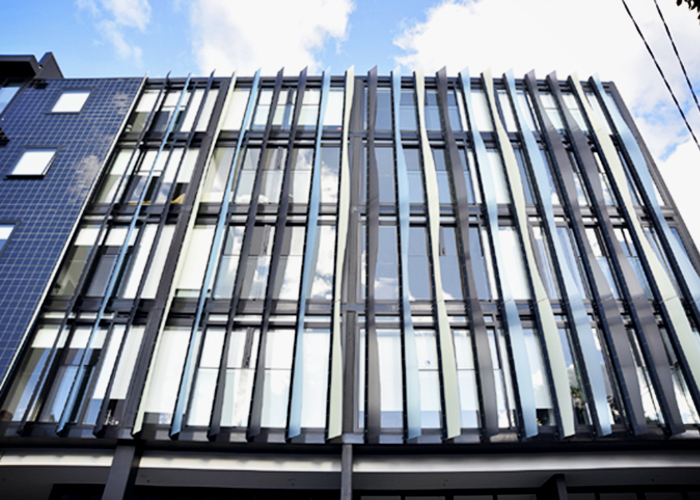 Perspex® Outdoor Fins
Genuine Perspex® Frost acrylic was the material of choice for Wireframe Architecture director, Geoff Dill, when further developing Terry Harper Architects' original design for the Belford street apartments complex in St Kilda, Australia. With a 10 year exterior warranty and it's well known ease of installation; twenty one vertical rows of Perspex® Frost 'Fins' were created to enhance the external aesthetic appearance of this boutique development. Geoff commented, "Perspex® acrylic allowed us to achieve the design intent with the budget we had available - other material options weren't going to achieve this."
The cutting of the Perspex® sheets to achieve the smooth curves that created a wave effect on the side of the building was effortless. Each lightweight panel is securely fixed into place with screws, after concerns of other materials such as glass being labelled unsafe to hang on the outside of the building. This factor further secured the use of Perspex® for this project, as well as having a large collection of colours available. The colour palette suited the design specification without the need for films or tints that may have been required for other materials.
Perspex® Frost 10mm was chosen for a textured matt finish, in 3 colour ways:
Perspex® Frost Lemon Sorbet S2 2T30
Perspex® Frost Arctic Blue S2 7T77
Perspex® Frost Stone Grey S2 9T21
A proven champion when it comes to accentuating any architectural structure; the material sheet length of 3 meters allowed this design to have one continuous 'blade' per floor, with the full 'Fin' stretching a total of 4 floors on the outside of the windows. Geoff commented further; "We are very happy with the end result and would definitely specify Perspex® acrylic again in the future!"