Metal flooring, walkways and drainage grating from Nepean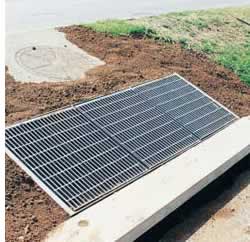 Graham Group is one of the leading suppliers of high quality steel grating, metal flooring, steel walkways, handrailing, lintels, expanded perforated metal and hot-dip galvanising services in Australia.
The company has a national coverage with manufacturing facilities in Sydney, Melbourne, Brisbane, Perth and Coffs Harbour.
Graham Group brands include Weldok, Galintel, Galvanising Services and Mastermesh.
The high quality products services manufactured by these brands include Metal Walkways, Drainage Grating, Expanded Metal, Perforated Metal, Steel Lintels, T Bars, Rendabar, Angles, Fibreglass grating, Catwalks, Metal Flooring, Handrailing and Galvanizing Services.
From this solid foundation in engineering, the company has grown to become a leading Australian manufacturer of galvanised steel products that are widely used in commercial, industrial and resource projects Australia-wide.
To complement this manufacturing base, the Graham Group also provides hotdip galvanising services.
A simple philosophy has guided the growth of the Graham Group; "Demand the best, supply the best; quality products, services and customer care."
Over the years the Graham Group has undertaken substantial investments in plant, equipment and infrastructure. The group has an ongoing commitment to research and development, striving to make innovative products that excel both in Australia and overseas.
Graham Group is a proud member of the Nepean Group.