Trench Hydronic Heating from dPP Hydronic Heating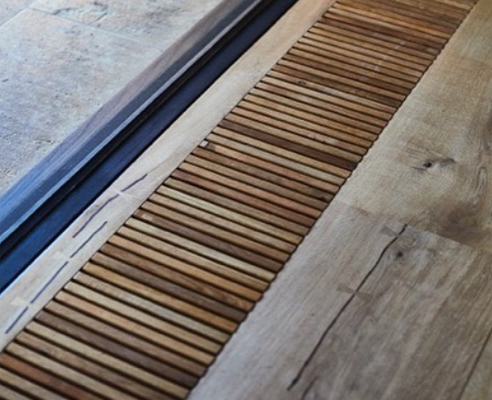 Are you looking at a stylish way to heat a room with large expanses of glass or little wall space for panels? If you are look no further then Trench Hydronic Heating. A trench convector is covered with a grill that can be designed to match your floor covering or taste. They work by heating the cold air that falls from glazing into the trench. As with all hydronic heating there is no blown air so it makes for the most comfortable method of heating your home.
What is Trench Heating?
Trench heating is where we install a hydronic panel system within a trench in the subfloor with a grill over the top that matches into your flooring. It is the preferred method of heating a room with large expanses of glazing, little wall space or if panels are not desired. The pipes are laid from the boiler through the slab or sub floor to the end of the trench. Trench heaters can be purchased as an off the shelf product or can be boxed out by the builder. The hot water heats a panel that is in one side of the trench so as cold air falls off of the glazing into the trench it is then heated and rises.