Award-Winning Hidden Kitchen Bins - Concelo from Nover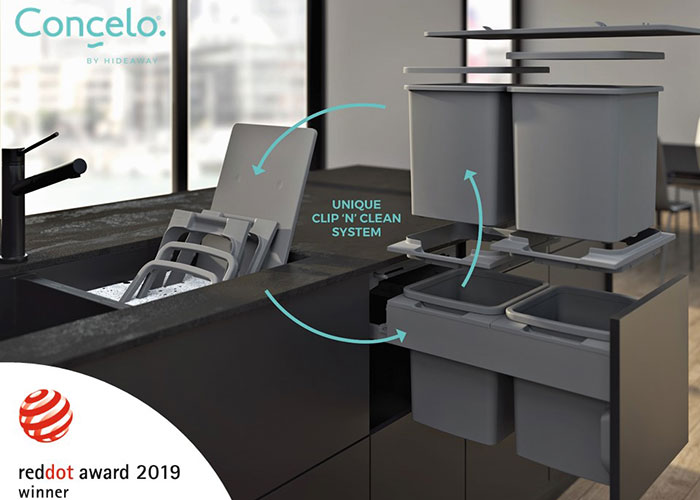 A recent Red Dot Award Winner, the Concelo by Hideway is an integrated kitchen waste bin available for purchase from Nover. Able to be neatly concealed within a kitchen drawer, it boasts cleanliness and functionality that an ordinary waste bin simply cannot provide. Boasting smooth operation, the Concelo alleviates two of the most common kitchen bin concerns - grime and odours - and features;
An active lid - hands-free, the Concelo waste bin lid opens and closes with the motion of the drawer it is otherwise hidden in. This assists in keeping odours to a minimum.
A Clip'n'Clean tray, bucket, and liner holder - for ease of cleaning. Made from stain resistant polypropylene, each item is readily removed, cleaned, and clipped back into place. Potentially trapped dirt is able to be eliminated in seconds!
A smooth, synchronised over-extension runner - for installing the Concelo at bench height for ergonomic use. Top mounted, this enables each bucket to be removed independently for emptying.
For more information regarding Award-Winning Hidden Kitchen Bins - Concelo from Nover, visit www.nover.com.au.