How is Hydronic Slab Heating Installed from dPP Hydronic Heating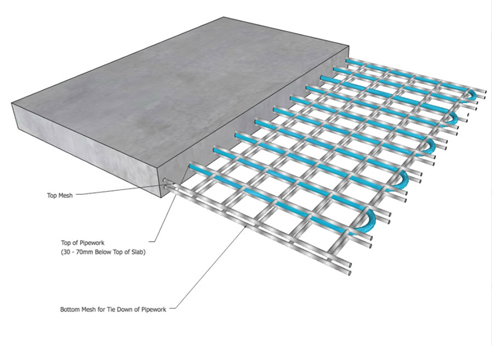 Have you ever wondered how in slab hydronic heating is installed within the structural slab? Like in screed heating all walls and cabinetry need to be marked out prior to installation and the concrete pour should happen the day after installation to prevent any form of damage by weather or people.
The only difference in pouring a slab with hydronic heating is that we come in when all formwork is complete and tie our pipework to the reinforcement mesh, and a second mesh should be laid on top of our pipework.
Measurements:
16mm - Pipe Thickness
30mm - Minimum thickness if slab is to be covered with a floor finish such as Tiles etc
50mm - Polished Concrete - Thickness of concrete above the top of the pipework
Most jobs take around 1 day to complete, and the pour can happen the day after our installation.