Hideaway Hidden Waste Systems from Nover & Co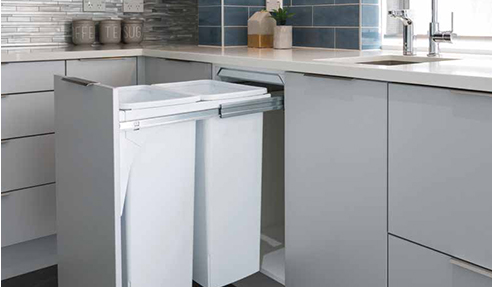 Nover & Co offers the innovative and expertly designed Hideaway Hidden Waste System - a simple yet stylish space-saving solution for the modern built environment.
The Hideaway Hidden Waste System revolutionises waste storing and recycling within the kitchen, laundry area and bathroom. With each of the three from the range offering distinctive features, there is sure to be a Hideaway Hidden Waste Systems to match the project specifications of your next residential or commercial project.
Bench Height Installation
Most Hideaway Hidden Waste Systems can be mounted to the top of kitchen cabinets, directly under the benchtop and at an optimal height for clearing waste directly off a benchtop. This setup lessens the amount of bending required when disposing of waste since the waste bin is directly the benchtop.
Easy Access to Rear Bucket
All Hideaway Hidden Waste Systems are produced with overextension runners. This makes it easy to remove or empty the bin, without having to compromise on space and ergonomics.
If you want to learn more about Nover & Co's Hideaway Hidden Waste Systems, please visit www.nover.com.au today.