Commercial Piping Mobile Training Showroom from Viega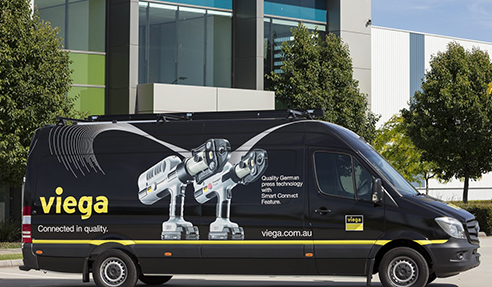 Viega Van unveils mobile training showroom
Step inside and experience the smarter way to make connections
German brand Viega, a global market leader in press fitting technology, has unveiled a new mobile training showroom that will embark on a nationwide tour to bring the "Viega Experience" to specifiers, architects, plumbers and hydraulic consultants.
The Viega Van is a high-tech billboard on wheels that showcases the company's revolutionary installation technology. Some of the world's most iconic structures including the Sydney Opera House, the Statue of Liberty, the Pentagon, Rod Laver Arena, and Barangaroo International Towers rely on Viega's press fitting solutions.
"The launch of the Viega Van now enables us to meet our local customers in their environment to educate and inform them on the many benefits of Viega technology and systems," says Viega Country Manager, ANZ, Phil Jackson. "We want to try and serve many store branches and network plumbers regardless of their location."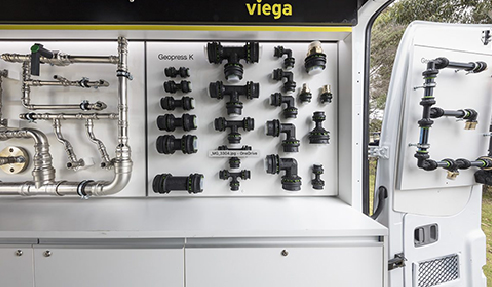 The Viega Van is fitted with a range of signature products, including:
Propress: The safe, reliable, and economical copper pipe installation system that uses modern cold press connection technology for a wide assortment of more than 150 fittings.
Sanpress Inox: Designed for stainless steel, this system of choice for perfect drinking water hygiene is ideal for high-pressure applications, where the environment can corrode copper (coal dust and ammonia), or for non-plumbing projects such as food processing or pharmaceuticals.
Geopress K: Satisfies all challenges posed by underground installations of drinking water, gas and alternative energy. Components can be fitted regardless of weather conditions.
Smartloop Inliner: The smart hot water circulation system with one-pipe technology, where flow and return lines are combined into one pipe, reducing installation costs.
Smart Connect Feature: Viega's original pipe joining feature that allows installers to easily identify any missed or un-pressed connections. Smart Connect Feature is a patented fitting that safeguards the fact that all connections are 100 per cent secure in just a few seconds.
Pre-wall cisterns and designer flush plates: Sophisticated systems and award-winning designs that are perfect for every bathroom installation, including hotels, care homes and stadiums.
Stay tuned for updates to find out when the Viega Van will be making a pit stop near you! Visit www.viega.com.au today.