Piping Systems for Extreme Conditions Antarctic Case Study by Viega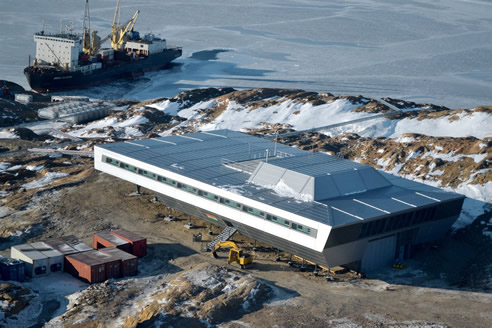 Viega case study
Bharati Antarctic research station
EXTREME CONDITIONS CALLS FOR VIEGA'S ROBUST PIPING SYSTEMS
On the rocky Antarctic plateau adjacent to the Larsemann Hills, at temperatures down to minus 40°C, India has been operating a science research station since 2012. Named "Bharati", after the Hindu Goddess of Wisdom and Knowledge, it serves as headquarters for climate change and oceanographic research.
This high-tech station consists of one main building, fuel farm, fuel station, seawater pump house, a summer camp and a number of smaller containerised modules. The main building offers regulated power supply, automated heating and air conditioning with hot and cold running water, flush toilets, sauna, cold storage, PA system, living areas and laboratory space.
To enable Bharati's researchers to continue their vital work in extreme conditions during the Antarctic winter, it required especially robust drinking water and heating solutions.
Drinking water hygiene is particularly vital at the remote location. Contamination by legionella or similar harmful microbes would be disastrous not only for the researchers - the very future of the mission would be placed at risk.