Romantic Bathrooms with Victorian Tiles by Designer Ceramics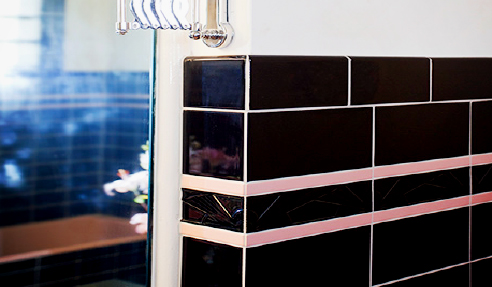 Selecting Victorian bathroom tiles adds romanticism, style and sophistication to the space. The Victorian style is inherently romantic and ornamental in nature. Drawing from a mixture of inspirations such as Gothic revival, Byzantine and Romanesque styles.
The choice of wall colour for Victorian homes depends on the function of the space. Hallways, for example, are made in tones of neutral grey to avoid overshadowing other rooms. Bathrooms are adorned with ornate tiles, marble or wet plaster to make the wall look like blocks of stone. Walls are covered with ornamental wallpapers with darker tones, projecting a sense of classic drama, mystery and elegance to a room.
Designer Ceramics, Australia's leading manufacturers of Aesthetic Victorian Tiles and other period tiles, offer an innovative approach to embossed border design and production. They offer bathroom border tiles with trade accepted lengths of up to 8 inches or 198mm, but can customise to the original 6 inch (152mm) sizing favoured by more discerning clients.
Here are some examples of the Romantic Bathroom Aesthetic using Victorian Tiles.